Dolce & Gabbana's Milan store got a makeover on Feb. 27 when the brand invited bloggers to dress up its windows using apparel and accessories from the spring/summer 2011 line.
The event, Dress Me Up, was held at the brand's flagship store in Milan. The live decorating contest was open to the public.
"Brands have to think more outside the box than ever before," said Laura Ries, president of Rosell, GA-based consulting firm Ries & Ries. "Traditional media is becoming a more difficult way to engage consumers, so brands are starting to think of other ways to get the buzz going about their brands."
Dress Me Up
The event took place from 6 to 8:30 p.m. There was a live DJ and cocktails served after the decorating.
Dolce & Gabbana invited industry bloggers Bryan Boy, Kristin Knox, Ingrid Chua-Go, Denni Elias, Kelly Framel and Susanna Lau to participate.
The bloggers took apparel and accessories from the brand's newest collection and arranged them in the store windows.
Predictably, the bloggers have already taken to their pages and posted pictures of their experience.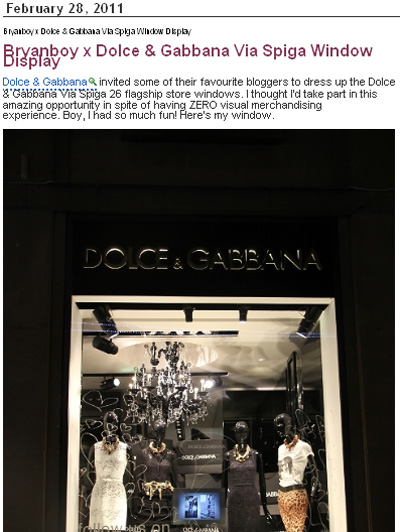 Blogger Bryan Boy's windows, posted on his blog
Each of the windows now has each blogger's name and Web site, which will generate publicity for both the brand and the bloggers. This will most likely increase in-store sales for the boutique, because the exhibit may entice customers to see the windows and look inside the store.
"If the bloggers are people who are genuine fans of the brand, then this is great publicity for Dolce & Gabbana," Ms. Ries said. "It will attract the attention of fans of the brand itself, and fans of the bloggers."
Dolce & Gabbana promoted the event through Facebook and Twitter, and had special promotional videos on YouTube.
Promotional video on YouTube
Users can find more information on the event, as well as images and videos by the bloggers, at http://www.dressmeup.dolcegabbana.com. They can also see special footage and the finished results on Dolce & Gabbana's Facebook page.
An increasing demand
Luxury brands are certainly striving to create new and interesting ways to gain publicity.
Brands are straying from traditional media such as print and television in favor of a more digital and event-oriented approach, according to Ms. Ries.
"There isn't a real formula for a marketing strategy that is sure to work," Ms. Ries said. "So brands are trying a lot of different ways to generate buzz.
"It's getting more difficult to come up with a creative way to engage consumers, with everyone trying to one-up one another," she said.
In order to do so, brands need to come up with something that is totally unique to the particular business.
If a luxury brand does something that is interesting, but not individual, then soon others will start to follow.
Eventually, what used to be a fun and innovative feature will become repetitive, she said.
"This is something to try, but any brand could do it," Ms. Ries said. "Brands have to start coming up with ideas that resonate with the brand in a completely solo way.
"In order to get noticed, brands need to get above the noise and not rely on one gimmick alone, but the real power of the brand itself," she said. "You can't lose sight that your brand needs to stand for something, first and foremost, and only then can you look for ways to express itself."
Rachel Lamb is an editorial assistant at Luxury Daily. Reach her at rachel@napean.com.