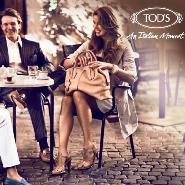 Leather goods manufacturer Tod's is targeting affluent consumers with an exhibit at the 2011 Salone del Mobile that explores the craftsmanship and the collaboration between the brand and the annual furniture exposition.
As part of Milan's famous annual furniture fair, Tod's has converted the window of its famous Via Della Spiga Boutique to showcase the piece of art. The Salone del Mobile furniture fair will take place April 12-17 in Milan, Italy.
"Tod's traditionally thinks globally as to what creates daily, elegant lifestyle and is smart in celebrating and presenting ways where art and design meet Italian fashion," said Paul Farkas, founder/CEO of SocialFashion.com and collaborator-in-residence at Watchitoo.com, New York.
"As digital embraces more multiplatform transmedia, fashion brands need to not only have marketing and public relations participating in more than fashion goods and accessories, but in ways that actually relate to how consumers see trending aspects of luxury life," he said.
Tod's did not respond by press deadline. Mr. Farkas is not afflilated with Tod's and agreed to comment as a third-party industry expert.
Looking glass
The leather goods manufacturer has not posted the event news on its Facebook and Web site just yet, but to reach consumers and fans, that would be a smart thing to do.
Tod's began its Salone del Mobile involvement in 2008 by commissioning architect, designer and art director Giulio Cappellini to create a special window display that would travel to the flagship Tod's boutiques around the world. The project was titled "Looking at Tod's."
The brand continued to mark its involvement with the Salone del Mobile in 2009 with the show "Design Icons," where the brand's iconic JP loafer was placed alongside chairs.
In 2010 Tod's opted to create an exhibit focusing on the theme of transcending time. Tod's pieces were displayed alongside works of some of the design world's big players.
This year, Tod's has created a globe made from more than 17,000 wooden pencils in the brand's signature shade of orange.
The continents are made from erasers representing the pebbles at the bottom of the iconic Tod's Gommino shoe.
According to the brand, the "Globe" exhibit displays the symbol of the brand's worldwide vision.
Italian artist Felice Limosani has built the enormous globe for Tod's.
High note
In addition to the Salone del Mobile fair, Tod's has displayed the extraordinary craftsmanship that goes into a shoe or handbag other ways.
Most recently, the brand has targeted consumers with an iPad that explores the collaboration between the Milan opera house, Teatro alla Scala (see story).
The "An Italian Dream" iPad application shows each step of the creation process of Tod's Dream Bag and Gommino styles.
The application allows users to browse collections and view virtual themed lifestyles.
Also, Tod's is targeting consumers with a short film titled "An Italian Moment" to promote its spring/summer collection and, in the process, building its email database (see story).
The short film seeks to bottle the La Dolce Vita essence of an Italian life led in Tod's footwear, handbags and sandals.
"Luxury and concept-furniture is not far removed from fashion at all," Mr. Farkas said.
"Best luxury brand image often promotes the overall lifestyle of living fashionably, as recently reflective in Tod's own fashion video short, The Italian Moment, where attractive couples and friends enjoy life amongst iconic and romantic Italian settings," he said.
Final take
Does such sponsorship pay off for luxury brands?