German automaker Mercedes-Benz strengthened its title sponsorship in Fashion Week Swim in Miami this past weekend when the brand updated its location via social media updates to reward trendy stylesetters with a ride from the Fashion Force.
The Fashion Force patrols the streets during Fashion Week and offers and rewards Miami stylesetters with prizes and tickets. Miami-based stylist Danny Santiago and other fashion influencers cruised around in a Mercedes 2012 CLS63 AMG July 14-17.
"This adds value to Mercedes-Benz because they are associating their brand with top Fashion enforcer, Miami-based international stylist Danny Santiago, along with other fashion influencers who are carrying out the mission of spotting stylesetters," said Dalia Strum, president of Dalia Inc., New York.
"Through this strategy, Mercedes-Benz is establishing themselves as a thought leader in terms of innovative style and luxury," she said.
Ms. Strum is not affiliated with Mercedes, but agreed to comment as a third-party source.
Mercedes did not respond by press deadline.
The CLS63 AMG is a four-door vehicle with an upscale design meant to target young drivers.
Mercedes USA became the sponsor of IMG's Mercedes-Benz Fashion Fashion Week in New York and Mercedes-Benz Fashion Week Swim in Miami in 2007 (see story).
Swim suits
The Fashion Force, decked out in its signature patrol badges, roamed the streets July 14-17.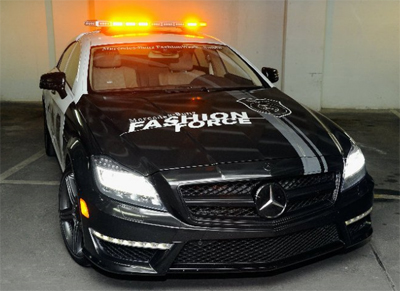 The Fashion Force vehicle
Other fashion enforcers include Lisa Vogel, Mercedes-Benz Presents designer and designer of Luxe by Lisa Vogel; Laurie Heriard Dubreuil, co-owner of The Webster; Seth Browarnik, celebrity and social photographer and founder of World Red Eye Productions; and Nikki Novo of Daily Candy and The Feast.
When members of the style-setting team saw eye-catching hair or makeup, the car pulled over and offered them a ride to their next destination in the AMG.
Mercedes offered updates via its Facebook at http://www.facebook.com/mbfashionweek and Twitter at http://www.twitter.com/mbfashionweek so knowing consumers might try to catch a ride and win prizes.
Every person that was picked up had their picture taken with the vehicle and were given a pair of limited-edition Havaianas flip-flops created for the Fashion Force.
Several of the most stylish individuals received invitations to the Mercedes-Benz Fashion Week Swim runway shows.
These individuals were also invited to the official Fashion Force culmination event, hosted by Mr. Santiago in the Mercedes-Benz Star Lounge in Miami.
Fashion's right out
Since Mercedes has been promoting the Fashion Force service over the past few events, Fashion Week regulars most likely have heard about the service.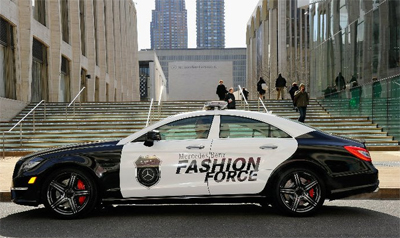 Mercedes Fashion Force in New York during Fashion Week 2011
Therefore, it is likely that Tweeting and Facebooking updates of locations could create excitement and buzz throughout the event.
Furthermore, it may pique Miami's Mercedes loyalists interest in Fashion Week, which is a huge benefit for the brands showing collections in the show.
Also, since the brand is trying to target younger consumers with the AMG, it is likely that Mercedes is leveraging interest by social media marketing.
New products such as the AMG are especially designed to attract Generation Y who will soon become Mercedes' primary buyers, according to Steve Cannon, vice president of marketing for Mercedes (see story).
Therefore, social media is just another way to connect with Gen Y, who are digital natives and live on Facebook and Twitter, per Mr. Cannon.
"This initiative is unique because they are able to connect an emerging product with an audience that might have been more difficult to reach, and incentivize them to experience a trial," Ms. Strum said.
Final Take
Rachel Lamb, associate reporter on Luxury Daily, New York