LVMH's Domaine Chandon plans to build brand awareness and support breast cancer research with its annual Pink Party and a national campaign to rally for early detection among young women.
The sixth-annual event will also feature the National Breast Cancer Foundation's spokesperson actress Whitney Port. Pink Party will be at the Domaine Chandon winery in Napa Oct. 13.
"Pink Party at Chandon is now the most highly-anticipated event at the winery of the year," said Carrie Crespo-Dixon, site events and wine communication manager at Chandon, Napa, CA. "It has become so popular that it attracts visitors from out of state and the winery has even received requests to take the event on the road.
"It has been an opportunity for Chandon to support the community and, more importantly, support the fight for a cure," she said.
Sparkling event
The National Breast Cancer Foundation has tapped Ms. Port as the Spring spokesperson, and this benefit marks the first major public appearance she will be making on behalf of the organization.
Pink Party will include a reception with hors d'oeuvres by chef Perry Hoffman of Etoile Restaurant at the winery and a fashion presentation by Whitney Eve from 5:30-8:30 p.m.
The event will also include a silent auction with items including Pointy Snout Caviar, Thomas Pink apparel and accessories, Sephora cosmetics and a Whitney Eve garment.
Whitney Eve, Ms. Port's fashion line that launched in 2009, will be modeled by breast cancer survivor and Napa Valley resident Karen Harnois who has been in remission since 2010.
Consumers can buy tickets for $100 at http://www.chandon.com/pinkparty, a portion of which will benefit the National Breast Cancer Foundation.
Chandon is alerting consumers via Facebook, Twitter and local print outlets.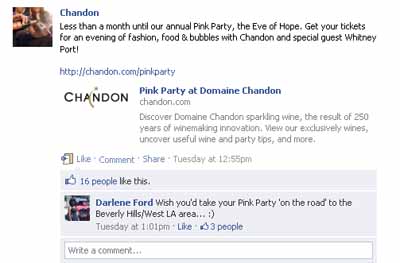 Chandon's Facebook page
Entering the code "Chandon4theCause" on Chandon's Facebook page activates a $1 donation to the National Breast Cancer Foundation.
The goal of this Facebook initiative is for Chandon fans to share the promotion and raise awareness for the cause and for the breast cancer foundation.
Pink ladies
Pink Party was originally designed as an event benefitting Napa-based The Queen of the Valley Medial Center Foundation and has been an official sponsor of the National Breast Cancer Foundation since 2010.
Teaming up with a cause can help luxury brands to connect with consumers who may have the same core values, especially since consumers prefer companies that are good corporate citizens (see story).
Since October is National Breast Cancer Awareness Month, luxury consumers can expect a multitude of brands to get on this bandwagon.
Some brands already have a head start, such as department store Nordstrom that took the fight against breast cancer to its retail stores with the Nordstrom Fits America lingerie event dedicated to raise money for the cure (see story).
"Organizing this year's event in partnership with the National Breast Cancer Foundation provides Chandon national reach for the current initiative of rallying for early detection among women," she said.
Final Take
Rachel Lamb, associate reporter on Luxury Daily, New York