British automaker Jaguar is looking to reestablish itself in the eyes of luxury consumers with the largest comprehensive driving push in brand history called the Jaguar Alive Brand Experience that will travel to 18 U.S. cities this year.
The Jaguar Alive tour is part of the recent campaign and brand makeover of which the company is slated to spend $2.3 billion on Jaguar and sister company Land Rover every year for the next five years. Jaguar is looking to immerse consumers in its world not only through a driving experience, but through conveying the automaker's four key values of performance, style, technology and refinement.
"Driving experiences have always played a significant role in Jaguar's experiential marketing strategy," said Natascha Wolber, manager of national event marketing for Jaguar Land Rover North America, Mahwah, NJ.
"We have executed driving tours in different formats for many previous Jaguar model launches," she said. "Some driving events focused on street driving, highlighting comfort, convenience and luxury while others were held on race tracks and showcased performance, acceleration and agility.
"This Jaguar Alive Driving Experience combines all of these efforts into one and is by far the largest, most comprehensive experience Jaguar has ever embarked on."
The Alive campaign was the first brand reset for Jaguar in over 40 years, including new colors and logos (see story).
Alive in person
The Jaguar Alive tour kicks off in Phoenix, AZ, April 12. It is offering consumers the chance to experience the full vehicle line-up including the XF sports sedan, the XJ sedan, XK coupe and the grand tourer convertible.
The tour will travel thereafter to Irvine, CA; Los Angeles; Dallas; Denver, CO; Seattle; Oakland, CA; Atlanta; Chicago; Boston; New York/New Jersey Tri-state area; Philadelphia; Washington; Ft. Lauderdale, FL; Tampa, FL; and Charlotte, NC.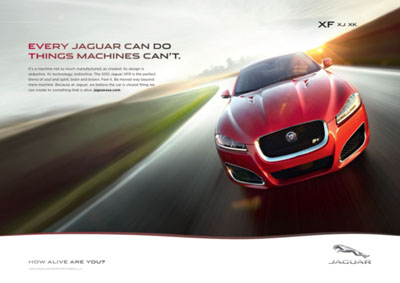 Jaguar Alive print campaign
Consumers will be able to learn about Jaguar's heritage and experience the brand through interaction and activities including a history technological innovation and a design retrospective.
Participants will be able to test-drive Jaguar vehicles while sitting beside renowned instructors including Davy Jones, Adam Andretti and Roberto Guerrero.
While driving, consumers will be taught safe performance driving skills including handling, braking and acceleration in simulated driving courses.
Through these activities and displays, Jaguar hopes to convey its four core values and emphasize how the automaker develops its vehicles based on these ideals.
More information can be found at http://www.jaguarusa.com/jaguaralivedrivingexperience.
"The Jaguar Alive Driving Experience works to support the brand's Alive campaign, which seeks to reintroduce the iconic British automobile brand in a more modern context," Ms. Wolber said.
"The overall goal is to bring to life the new campaign and marketing direction by allowing consumers not only to experience first-hand the high performance of the vehicles, but to also create an emotional and experiential connection to the brand," she said.
"The Alive campaign is meant to communicate a refreshed brand image that Jaguar and our products have undergone a rebirth that warrants strong consideration when purchasing a luxury automobile."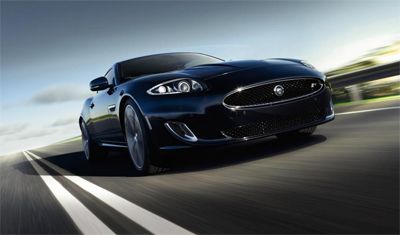 Jaguar XK
Jaguar roars
Jaguar is not the only automaker aiming for consumer recognition through a driving program.
For example, Audi of America is debuting a driving program focusing on its new electric vehicles that allows engineers in Germany to get instant feedback and data on driving conditions where the cars are used in the U.S. market while launching a hashtag campaign to spark mobility discussions (see story).
Bringing the cars to customers who have the chance to actually drive them will likely increase the chance of them buying the cars.
Furthermore, developing a campaign around core values will help Jaguar to align its image and ideals with consumers who share the same traits.
Creating a historical and design component is a move that many luxury brands use when trying to increase the retail value of their vehicles since affluent consumers enjoy knowing how products are made.
"Overall, the Alive campaign targets luxury consumers who are contemporary, daring and sophisticated, and who have a desire for beautiful, high-performing vehicles from an authentic brand," Ms. Wolber said.
"This audience includes a younger consumer with a high disposable income, as well as non-traditional buyers with a broader mindset, while still appealing to our traditional brand enthusiasts," she said. "We expect Jaguar loyalists, prospective buyers and luxury car enthusiasts to attend these driving events."
Final Take
Rachel Lamb, associate reporter on Luxury Daily, New York