British automaker Land Rover is creating an off-road course open to luxury consumers to test drive the brand's 2012 lines in conjunction with the New York Auto Show.
The automaker is offering consumers the chance to drive on a custom-made track to celebrate the 25th anniversary of Land Rover in North America. The test course and a VIP celebration will honor the first Range Rover sold in the United States in 1987.
"Capability is at the core of our brand," said Kim McCullough, vice president at Land Rover North America, Mahwah, NJ. "Land Rovers are known as the vehicles that can go anywhere and do anything.
"Most consumers don't fully appreciate the full capability of their Land Rover vehicles, so by creating this special off-road course in the heart of New York, we can illustrate that 25 years later, these cars remain extraordinary"
Land Rover is owned by India's Tata Motors.
The New York Auto Show is being held April 6-15 at the Jacob Javits Convention Center in New York.
Staying on course
Consumers will have the chance to drive Land Rover 2012 vehicles on an urban off-road course constructed in New York's Meatpacking district in Manhattan.
The event will reward loyal consumers who helped Land Rover sell 575,000 vehicles in North America since 1987, claims the brand.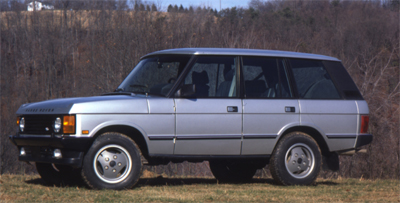 1987 Range Rover
Land Rover chose New York as its venue for the off-road experience due to the city's status as the largest metro area in the country.
In addition, the automaker will have historic Heritage Land Rover car models that helped to establish the brand as a luxury sports utility automaker on display at the off-road course.
The lineup includes the 1987 Range Rover, 1993 Land Rover 110, 1995 Range Rover Classic, 1995 Camel Trophy Discovery and 1997 Defender soft top.
The brand's first vehicles sold at $30,850, making it the most expensive vehicle of its type.
"In celebrating this milestone, Land Rover cultivates a sense of U.S. heritage," said Taylor Rains, account coordinator at Rawle Murdy Associates Inc., Charleston, SC.
"Despite being a [British] brand, Land Rover is a U.S. mainstay and this campaign celebrates just that," he said.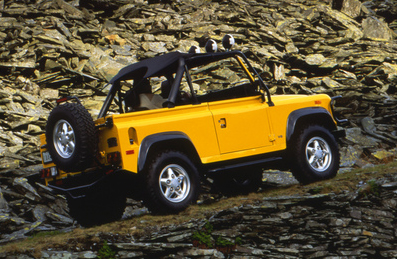 1994 Defender 90 soft-top
Land Rover was founded in 1948 but did not market in the U.S. until 1987 when Range Rover North America was established.
Meanwhile, sister brand Jaguar is looking to draw luxury consumers with the largest comprehensive driving push in brand history called the Jaguar Alive Brand Experience that will travel to 18 U.S. cities this year (see story).
Social scene
Land Rover celebrated its 25th year in the U.S. on Facebook by uploading a photo album called Range Rover Through The Years, which features photos of old and new models in action.
The automaker asked its Facebook fans and Twitter followers, "Do you know which day the very first Range Rover was sold in the U.S.?" on March 16 to mark the date of its first sale in North America.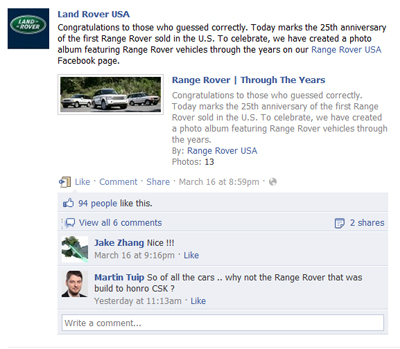 Land Rover 25th anniversary Facebook post
The brand also created a Facebook event page for its appearance at the New York Auto Show.
Land Rover has been using social media in full force. In fact, extensive and unique social media campaigns are a key way for Land Rover to build brand awareness and loyalty, according to the brand (see story).
For example, the brand chose The New York Times Web site as a vehicle to market its Range Rover Evoque models with above-the-fold banner ads that ran a real-time count of tweets about the car (see story).
"Consumers associate these brands with stories, both individual and shared," Mr. Rains said. "Recognizing Land Rover's quarter century in the U.S. deepens the value of this brands story."
Final Take
Tricia Carr, editorial assistant on Luxury Daily, New York