High-end appliance brand Jenn-Air is increasing its facetime with consumers through its sponsorship of the fifth annual Pebble Beach Food & Wine event where it will be supplying two kitchens for culinary demonstrations and a walk-through exhibit.
The focus of Jenn-Air's presence at the event is engaging face-to-face interactions with potential consumers and creating a lifestyle experience in a casual, high-end setting, claims the brand. Jenn-Air often uses events as a way to engage with consumers one-on-one.
"The event marketing that we do provides our consumers with an opportunity to meet the brand," said Brian Maynard, director of marketing at Jenn-Air, Benton Harbor, MI. "Whether you see Jenn-Air marketing communication in print or online, it is largely one-way communication.
"Now, we use social media as two-way, but it can be impersonal," he said. "This sponsorship is an opportunity for consumers to come in and meet the brand and see it in a lifestyle setting that fits our brand.
"It is another touch point for us to get to know our consumers."
The Pebble Beach Food & Wine event is presented by American Express Publishing. It will run April 12-15 in Pebble Beach, CA.
Culinary exhibit
Jenn-Air will have a large presence at the four-day event that will position it well in an audience of luxury consumers and highly-regarded chefs.
The brand will have two venues at the event in the form of the Jenn-Air Cooking Demo Pavilion and a kitchen exhibit in the sponsor tent.
The Jenn-Air Cooking Demo Pavilion will host cooking demonstrations by celebrity chefs such as Daniel Boulud, Anne Burrell, Michael Chiarello, Todd English, Guy Fieri, Tyler Florence, Thomas Keller, Jacques and Claudine Pepin, Michael Symon and Geoffrey Zakarian.
Two full-working branded kitchens will be in the pavilion. Video cameras and mirrors will help event attendees view the cooking demonstrations.
In addition, Jenn-Air will display a 20-inch-by-40-inch kitchen exhibit and invite attendees to interact with its appliances in the carpeted tasting tent.
Brand experts will be in the display kitchen to guide consumers and offer advice.
Jenn-Air will also use this time to let consumers use its new augmented reality iPhone application that allows them to envision branded appliances in their homes.
Users can take pictures of a kitchen and replace old furniture with a Jenn-Air appliances, locate showrooms and contact the brand (see story).
Jenn-Air will be collecting consumers' names and contact information for further communication following the event.
This new-found relationship lets the brand communicate when a consumer is in the market to buy an appliance and track sales, Mr. Maynard said.
In addition, the brand is positive about its alignment with culinary influences at the event who have a voice in the industry such as Food & Wine magazine and hopes to start a conversation about Jenn-Air through the sponsorship, he said.
Cooks in the kitchen
Jenn-Air previously aligned itself with Pebble Beach Food & Wine in 2009 and 2010.
The brand will be promoting its appearance at Pebble Beach Food & Wine via its Facebook and Twitter accounts, claims the brand.
The Jenn-Air logo is displayed in the sponsors section of the Pebble Beach Food & Wine Web site athttp://www.pebblebeachfoodandwine.com.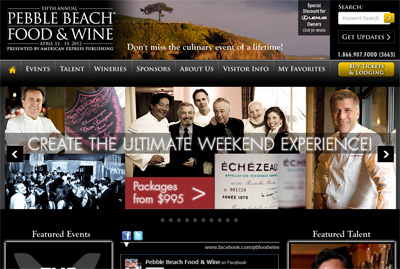 Pebble Beach Food & Wine Web site
In addition, a Jenn-Air advertisement will appear in the event program.
The brand continues to focus on face time with consumers through its appearance at the Architectural Digest Home Show and at an event presentation called Chef's Table in Chicago that benefited Design Industries Foundation Fighting AIDS.
"The more consumers get to meet and interact with the brand, the more interested they will be," Mr. Maynard said. "This awareness drives brand loyalty."
Pebble Beach Food & Wine will feature 75 chefs and 250 wineries over four days of activities.
The event seems to be appealing to the affluent consumer due to the high entrance fees of up to $4,750 for a VIP all-access pass and the celebrity chef-based exclusivity surrounding the event.
Attendees are able to participate in dining experiences, wine tastings and cooking demonstrations.
"This is one of the most luxurious food and wine events in the country and is most focused on the luxury market," Mr. Maynard said.
"We continuously seek out the right opportunities for consumer to meet and experience the Jenn-Air brand," he said. "A lot of the communication with consumers is one-way.
"Social media has bridged that gap a bit, but it is not nearly as personal as shaking hands and letting consumers touch the product."
Final Take
Tricia Carr, editorial assistant on Luxury Daily, New York