Mandarin Oriental Hyde Park, London, is creating the illusion of exclusivity for the brand through a sponsorship of a polo tournament team and by playing host to an invitation-only preview event.
Through its sponsorship of Team Abu Dhabi at the Mint Polo in the Park event this summer and by offering a special hotel package, the hotel seems to be marketing itself as a property for affluent consumers. The hotel is upping its high-end lifestyle affiliation by hosting an exclusive launch event that was marketed with a direct email campaign.
"Sponsoring a sporting event is a very effective way to create long-lasting memories with those who attend the event, enjoy it and talk about it for years," said David Schoenecker, principal at Koda, Phoenix. "Experience is what it is all about and a weekend with a sporting event and brief stay at a hotel is likely much more memorable than a random weekend getaway.
"To do the sponsorship right, the hotel needs to do more than simply offer a discount or slap the hotel logo on the event," he said. "It is in their best interest to share this event as an experience and a memorable event."
Mr. Schoenecker is not affiliated with Mandarin Oriental Hyde Park, but agreed to comment as an industry expert.
Mandarin Oriental Hyde Park could not comment before press deadline.
Let the games begin
The Mandarin Oriental Hyde Park hotel will sponsor Team Abu Dhabi at the Mint Polo in the Park event in London's Hurlingham Park on June 8-10.
The sporting event is a tradition that takes place each summer in the center of London.
The hotel is also marking the British St. George's Day holiday with a "Best of British" celebration April 23.
During this event, affluent guests can meet the members of all of the Mint Polo in the Park teams, including the hotel's sponsorship Team Abu Dhabi.
The event is being marketed via an exclusive email invitation.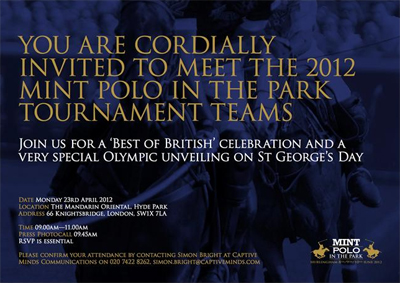 Email invitation
RSVP is required for entry. Guests will only be accepted by invitation or referral.
Mint Polo in the Park mentioned the launch event on its Facebook page. It is also a lifestyle event that offers entertainment throughout the day, per the brand.
By aligning itself with this exclusive event, it seems that Mandarin Oriental is attempting to maintain a prestigious lifestyle.
The property is tapping into its current consumer base by offering a hotel package for the event. It will offer a discounted room rate of $680 per night for guests who are in town for the event.
Guests can reserve this package by phone or on the property's Web site at http://www.mandarinoriental.com/london.
Mint Polo in the Park will take place at the park on the banks of the River Thames.
Other brands gaining visibility through this event Veuve Clicquot Champagne and Harrods, which will be supplying fare from its Food Court.
Tickets are available for the Mint Polo in the Park match starting at $32 for adults and can be bought on the event's Web site at http://www.polointheparklondon.com.
Mint Polo in the Park is also offering packages such as the City Friday Ultimate Club Package at $352 per person and Finals Day on Sunday at $336 per person.
"Alignment with Mint Polo in the Park serves dual purpose," said Taylor Rains, account coordinator at Rawle Murdy Associates Inc., Charleston, SC. "It garners brand exposure among luxury consumers and links the brand with something deeply associated with British culture.
"Polo is widely associated with luxury and, as such, is a perfect pairing for Mandarin Oriental Hyde Park," he said. "Alignment with such a sporting event demonstrates the brand's commitment to luxury and culture alike."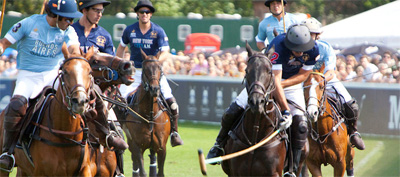 Previous Mint Polo in the Park event
Taking on the competition
Mandarin Oriental Hyde Park has not unveiled its marketing efforts for the Mint Polo in the Park sponsorship.
It is likely that the brand will continue to use email in addition to its active Facebook and Twitter accounts.
The Mint Polo in the Park Web site and Facebook page also seem to be likely to market the sponsorship.
Other luxury brands are offering exclusive experiences to consumers by targeting outsiders through some Web site and social media promotion.
For example, Swarovski is offering private shopping parties in its Swarovski Elements concept store in London that provides affluent consumers with exclusive access to the store's lounge with an opportunity shop the spring/summer 2012 collection.
The brand debuted the shopping events to outside consumers via its Twitter page (see story).
In addition, high-end travel group Virgin Limited Edition is using social media and a dedicated microsite to market its new luxury safari camp called Mahali Mzuri, an experience that offers exclusive excursions and opportunities to see African wildlife (see story).
It seems that brands that are offering exclusive experiences are looking for the best way to reach the correct consumer.
In the case of Mint Polo in the Park and Mandarin Oriental Hyde Park, email with a little bit of social media in the mix could reach the specific affluent consumers they hope to see at the launch event.
"Luxury brands are not targeting the masses, so it would not make sense to target a sporting event such as American football or basketball," Mr. Schoenecker said.
"However, the demographic profile of those who attend tennis, polo and golf is much different," he said. "I feel luxury brands are missing a huge opportunity by not being involved with the sporting events that have a more affluent viewership."
Final Take
Tricia Carr, editorial assistant on Luxury Daily, New York