German automaker BMW is using its sponsorship of the BMW ClubCorp Best Ball Challenge as an opportunity to offer test drives and build brand awareness.
The tournament will take place June 21-24 at the Firestone Country Club in Akron, OH. BMW will have exclusive access to an audience with household incomes of approximately $256,000 and will be able to position its vehicles and products at the forefront of their minds.
"The partnership will enhance the member tournament experience with the opportunity to win a BMW 750i," said Randy Kazmierski, director of advertising sales at ClubCorp, Dallas, TX. "Pinehurst is one of the most popular golf destinations for our members.
"The tournament typically attracts members who are serious about their golf game," he said.
ClubCorp is a network of more than 150 golf and country clubs, business clubs, sports clubs and alumni clubs nationwide.
Hole-in-one
Participants will play a total of four rounds of golf with the winning team qualifying to compete in the 2012 BMW Golf Cup US Final at Pinehurst Resort in Pinehurst, NC.
The event will include evening receptions on Thursday and Friday and the BMW Skills Challenge on Thursday. There will also be an awards presentation and conclusion on Sunday.
There are a variety of ways that BMW will push its products at this tournament.
Each participant will receive an exclusive BMW vehicle purchase incentive, BMW golf premiums and will have the opportunity to test drive the nest BMW vehicles.
There will also be a hole-in-one challenge with the opportunity to win a BMW 7-Series or a BMW M School Driving Experience.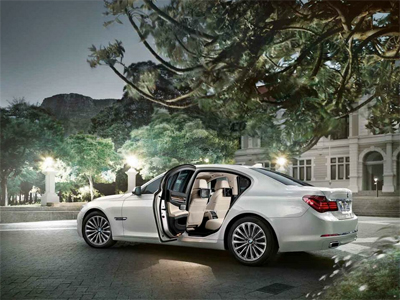 BMW 7 Series
In addition, all BMW vehicles and signage will be displayed on the golf course and throughout the country club.
The tournament logo includes the BMW and ClubCorp insignias, which also appear on all collateral and trophies.
Furthermore, the BMW logo will appear on all items in a welcome bag including a golf shirt, cap and towel.
A tent card promoting the BMW test drives will be placed on all Firestone lodge rooms and in the Firestone lobby. In addition, there is a full BMW ad on the back cover of the tournament program along with a welcome letter from the brand.
Par for the course
Golf seems to be one of the main sponsorship opportunities for luxury brands, and especially automakers, to connect with affluent consumers.
For example, Mercedes-Benz built awareness through product placement and sponsorship at the 73rd Senior PGA Championship by allowing consumers to hone their golf skills while engaging with interactive brand experiences (see story).
The Mercedes-Benz Performance Center hosted a select group of advanced golf-teaching tools that let consumers test, hone and improve their skills.
In addition, Toyota Corp.'s Lexus is creating more awareness for its title as the official car of the 2012 U.S. Open by hosting a Twitter chat and adding to its interactive onsite experiences (see story).
Sponsorships are a good opportunity for luxury marketers to align with an audience of affluent consumers who have the same interests as the brand.
"The Tournament teams are made up of two members of ClubCorp Clubs or a member and their guest," Mr. Kazmierski said. "Members of ClubCorp Clubs play an average of 71 rounds of golf annually and have an average net worth of $2.2 million.
"Additionally, participants are able to experience the latest BMW models right at Firestone Country Club," he said.
Final Take
Rachel Lamb, associate reporter on Luxury Daily, New York