Bottega Veneta, Condé Nast's Vogue and Red Digital Camera are partnering to host a contest for undiscovered photographers to award a prize package that includes the opportunity to work on a special project with the Italian fashion house.
The New Exposure contest let aspiring photographers enter a portfolio of their work to be reviewed by a panel of industry experts, with one winner to be announced July 11 at an event. Meanwhile, Bottega Veneta is letting its Facebook fans judge the contest as well and will announce a fan choice winner at the event.
"Luxury products are often in and of themselves pieces of art work," said Christine Kirk, CEO of Social Muse Communications, Los Angeles. "From a statement jewelry piece, to the elegance of a Bentley, most luxury products can be looked at as usable, functional art.
"This contest is a smart way for Bottega Veneta to pay homage to its artistic roots," she said.
"Social media is a perfect channel to cultivate new talent and a photography contest partnered with the fashion industry's bible Vogue and Red Digital Camera seems like a natural fit."
Ms. Kirk is not affiliated with Bottega Veneta or Vogue, but agreed to comment as an industry expert.
Bottega Veneta and Vogue did not respond before press deadline.
America's Got Talent
The New Exposure contest is the first annual search for undiscovered photographers in the United States.
Bottega Veneta, Vogue Red Digital Camera are exposing entrants to key decision-makers in the areas of fashion, photography, film, and design, per the brands.
Also, the contest was organized in collaboration with the International Center of Photography ACRIA/AIDS Community Research Initiative.
Bottega Veneta began to raise awareness for the 10 contest finalists June 20 via its Web site and Facebook. An opening slide on the label's page shows the main contest image as well as a brief description of how consumers can vote on Facebook.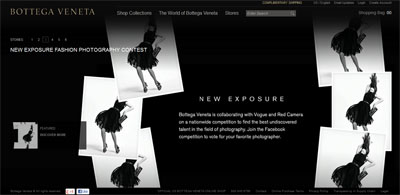 Bottega Veneta Web site
The label is letting its fans choose the Facebook Fan Favorite of the New Exposure contest.
Entrants' work is displayed on the New Exposure Facebook application. Users can vote for their favorite photographer and are automatically entered for the chance to win a framed print signed by the to-be-determined Facebook Fan Favorite.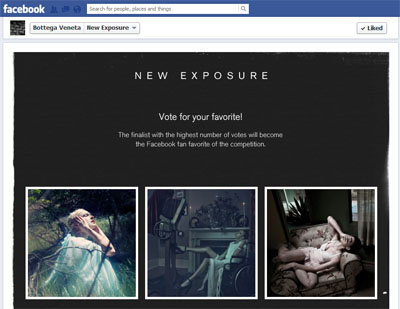 New Exposures Facebook voting application
To enter, photographers had to submit a digital portfolio of a maximum of 20 fashion images. Ten finalists will complete a portfolio of four to six images using Red Digital Camera's Epic-X camera.
A panel of judges will review portfolios and announce one winner at an event in New York at Milk Studios next month. The Facebook Fan Favorite will also be announced.
Judges include Vogue photography director Ivan Shaw, Bottega Veneta creative director Tomas Maier, artist Ross Bleckner, photographer Jack Pierson, International Center of Photography curator Carol Squiers, photographer Stewart Shining, Red Camera president Jarred Land and Lloyd & Co. founder and creative director Doug Lloyd.
The winner will receive $10,000, a one-year mentorship with agency Management Artists, the opportunity to shoot a Bottega Veneta special project to be announced later this year, a RED Epic-X camera package and a photography exhibit in New York.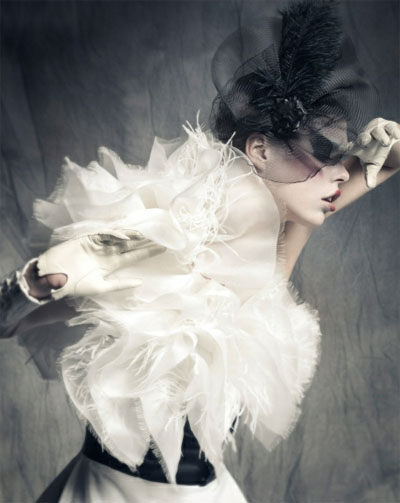 Image by contest finalist David Benoliel
No contest
Contests are a way for luxury brands to interact with their target audience as well as aspirational consumers while collecting information for their databases.
In addition, many luxury brands choose photography as the subject of contests, so users get to interact with the products to enter the contest.
For example, Rebecca Minkoff enlisted 14 well-known bloggers to introduce the new spring/summer 2013 collection through a contest that spanned Facebook, Twitter, Instagram, Pinterest, Stylecaster, SocialCam and the Minkette blog.
The label shot the Morning After Walk of Shame contest in Southampton late last week where each of the bloggers wore an outfit from the new collection. Consumers are able to vote on the contest and upload their own images to win a gift card from Rebecca Minkoff (see story).
In addition, Italian automaker Lamborghini incorporated a photo contest into its outdoor moving exhibit that showed a fleet of historic V12 models. Consumers could follow the exhibit around London on a map on a microsite and participate in a photo competition hosted on Facebook and Twitter (see story).
Also, department store chain Neiman Marcus launched the Sole Seekers social media challenge to celebrate the 20th anniversary of footwear manufacturer Christian Louboutin. Participants were encouraged to submit photos of their own Louboutin shoes or those that they see at Neiman Marcus stores through Instagram or Twitter (see story).
"Luxury brands are well served by using visuals to show their consumer the value of their products and lifestyle," Ms. Kirk said. "Also, any good brand manager knows that on social networking sites, visual content such as pictures and video is engaged with on a higher level than straight text content.
"Because of Bottega Veneta's decision to host the contest on Facebook, it appears that the brand is trying to reach and gain exposure with a younger, but still affluent audience," she said.
"Also, finding new photography talent and helping to nurture that talent with the Management Artists mentorship program, in addition to the rest of the impressive prize, is clearly another goal."
Final Take
Tricia Carr, editorial assistant on Luxury Daily, New York