The retailer is inviting 32 beauty editors from national magazines to pair up with 32 beauty brands represented at Saks' beauty counter. Consumers can sign up to receive a private consulting session with one of the pairs with a $30 donation to the Look Good Feed Better program that helps cancer patients with the appearance-related side effects of their treatment.
"By bringing together our vendor and media partners we have been able to create a unique experience for new and existing customers," said Deborah Walters, senior vice president and general merchandising manager of cosmetics, fragrance and intimate apparel at Saks Fifth Avenue, New York.
"Clients will receive one-on-one consultations with a beauty editor and have the opportunity to speak with our beauty associates about new launches, discuss personalized solutions and try products," she said.
Beauty editorial
Aug. 16, Saks is inviting consumers to its store on Fifth Avenue in Manhattan to participate in private consulting sessions with magazine editors and beauty brands during Beauty Editors Day from noon until 7 p.m. Eastern Time.
Consumers can call 1-866-395-LOOK to book a 20-minute private session with a predetermined pair of a beauty brand expert and a magazine beauty editor.
Almost every beauty brand represented at Saks' beauty counter is participating in Beauty Editors Day. Editors will come from publishers such as Condé Nast, Hearst, Time Inc., Meredith, Rodale and American Media Inc.
Consulting pairs include Condé Nast Traveler Word of Mouth editor Eimear Lynch with Clé de Peau Beauté, Harper's Bazaar beauty director Alexandra Parnass with Estée Lauder, Town & Country beauty director Jamie Rosen with La Mer, Vanity Fair beauty director SunHee Grinnell with Christian Dior and W beauty director Jane Larkworthy with Bond No.9 New York.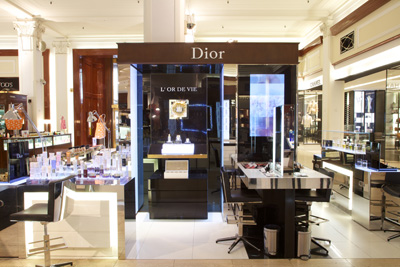 Dior beauty counter at Saks Fifth Avenue
Sessions will cover topics such as trends in skincare, fashion and makeup, inspiration, insider secrets, tailored beauty advice and product demonstrations.
Each participant will receive a gift according to the brand and beauty editor.
Saks is spreading the word about Beauty Editors Day to its consumers via Facebook. It posted the instructions to sign up for a personal consulting session.
The retailer will likely target its New York-based consumers via email, a channel it has used in many of its past campaigns.
Saks also teamed up with Look Good Feel Better to become its first U.S. retail partner and recreate an event that takes place annually at London-based retailer Selfridges.
Beautiful summer
Many luxury retailers chose to push beauty products during the summer months, likely to encourage transactions from aspirational consumers who can afford to buy into a brand from its lower price point items.
In fact, Saks positioned its beauty items in an online event at the end of May. It gave consumers three online shopping guides based on personality and style (see story).
Meanwhile, New York-based retailer Bergdorf Goodman also incorporated charity into its summer-inspired beauty campaign.
The retailer partnered with the Melanoma Research Alliance to promote safe sun habits and UV-protecting beauty products to consumers via social media initiatives and in-store events during Melanoma Awareness Month (see story).
Also, department store chain Nordstrom used mobile advertising as part of a bigger push to get consumers in-store for its July Beauty Bash event (see story).
Saks will likely achieve a halo effect from this event.
It is one thing for a luxury brand to internally participate in charity, but Saks letting its consumers participate with a small donation while encouraging foot traffic in its flagship store.
Furthermore, the program allows Saks to highlight its one-on-one service at its beauty counter.
"This event gives us the opportunity to support an amazing charity," Ms. Walters said. "I was aware of the program in Britain and was thrilled to have Saks Fifth Avenue invited to host in the U.S.
"Our vendor assortment features the best brands in color, skincare and fragrance and this program is a wonderful opportunity to highlight them all in such a collaborative effort," she said.
Final Take
Tricia Carr, editorial assistant on Luxury Daily, New York