Italian label Bottega Veneta plans to flaunt an eco-friendly, limited-edition handbag collection available for purchase and showcase the winner of its photography contest to drive foot traffic to brand boutiques during U.S. Fashion's Night Out events next month.
The brand is previewing its line of eco-friendly handbags, 100 of which will be available for purchase in its New York flagship store on a first-come, first-serve basis during the Sept. 6 event. As luxury labels begin to roll out their plans for Fashion's Night Out, Bottega Veneta is also encouraging foot traffic by featuring An Le, the winner of its New Exposure photography competition that it pushed heavily via social media this summer.
"Bottega Veneta is executing a great strategy of not only doing something good for the environment and for charities, but also giving to its fan base in what is sure to be an exciting event," said Kim Welther, director of client services and strategic solutions at Baesman Group, Inc., Columbus, OH. "It is really a winning strategy for all involved.
"This customer event will not only show that Bottega Veneta is a brand that cares for its followers, but also for others in the community through its support of charity work and concern for the environment," she said. "In today's environment, it is important for a brand to leave a good lasting impression.
"Bottega Veneta has gone above and beyond in the Fashion's Night Out event to represent itself as a brand that cares on many levels – a brand value that is important to every consumer."
Ms. Welther is not affiliated with Bottega Veneta, but agreed to comment as an industry expert.
Bottega Veneta was not available for comment before press deadline.
Got it in the bag
Bottega Veneta will create buzz for its new eco-friendly line by stocking its New York flagship store with a limited number of handbags available for purchase during Fashion's Night Out.
The line is produced using vegan materials and environmentally-sensitive dyeing and finishing. The handbags also share the signature design details of its leather goods, per Bottega Veneta.
The handbags were shown during the cruise 2013 presentation in May and will be available in stores in late fall.
Two materials are used to make the bags: hand-woven, treated jersey in nero, shadow, appia, and krim colors, and Japanese washi paper woven fabric in nero.
The eco-friendly jersey bag in nero will be available for purchase at Fashion's Night Out.
To build hype and surround Bottega Veneta with an air of mystery, the brand has not fully revealed the products yet.
The line was created in response to consumers' request for a non-leather, earth-friendly bag, per creative director Tomas Maier.
In addition, Bottega Veneta will show a special project for the first time at its flagship stores participating in Fashion's Night Out that was photographed by the 2012 New Exposure photography competition winner, An Le. The project celebrates the eco-friendly line.
Participating stores include those in New York; Beverly Hills, CA; Manhasset, NY; Scottsdale, AZ; Honolulu, HI; Costa Mesa, CA; Las Vegas; Dallas; and Houston.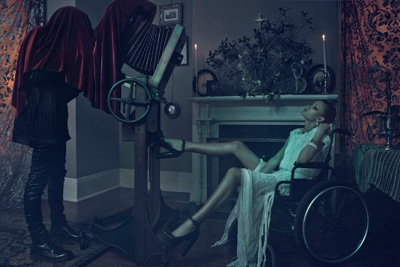 New Exposure contest submission by An Le
Fierce fashion marketers
Brands that want to distinguish themselves in major markets can use Fashion's Night Out as the launching point for product lines and campaigns.
Most retailers create a party-like atmosphere in stores to encourage foot traffic and transactions.
In addition to its project launch, Bottega Veneta is hosting DJ Hannah Bronfman and serving champagne at the New York flagship store.
Also at the Fifth Avenue location, a percentage of sales from Fashion's Night Out will be donated to the International Center of Photography Programs for Youth.
Bottega Veneta could get a boost in foot traffic due to the public involvement that it encouraged for its New Exposure photography competition. Consumers may attend the events to see the winners' work on which they previously voted.
The label partnered with Condé Nast's Vogue and Red Digital Camera to host the contest for undiscovered photographers to award a prize package that included the opportunity to work on a special project.
Bottega Veneta let its Facebook fans judge the contest via an app (see story).
The label will likely get consumers in the store for a few reasons due to the many aspects of its Fashion's Night Out presentation: environmentally-conscious consumers will want to see the new collection, art-minded consumers will want to view the photography exhibit and party-goers will want to take in the music.
"Fashion's Night Out has become one of the most exciting and highly-anticipated shopping events in the United States," said Elizabeth DeMaso, managing partner at Brenes Co., New York. "With only hours to visit the hundreds of participants, every retailer is jockeying to get customers to their store.
"Bottega Veneta's strategy is smart in that it encourages people to get to the store early to obtain the free handbag, thereby building the evening's agenda around its store," she said. "Combining this with the unveiling of the special project and a party atmosphere gives a reason to visit even after opening hours."
Final Take
Tricia Carr, editorial assistant on Luxury Daily, New York