British automaker Rolls-Royce Motor Cars likely secured maximum exposure to high-net-worth consumers through its annual sponsorship and invitation-only event in conjunction with Goodwood Revival in Britain.
The automaker hosted select consumers, prospective customers, special guests and media over the weekend at the Rolls-Royce showroom at March Motor Works that was refashioned to be a 1960s dealership for the event. By tradition, Rolls-Royce aimed to bolster its one-on-one customer relationships in this effort.
"Rolls-Royce is different as far as our relationships with our guests," said Andrew Ball, corporate communications manager at Rolls-Royce Motor Cars, West Sussex, England. "We invited them all personally.
"Rolls-Royce Motor Cars is one of the key sponsors of Goodwood Revival and we have been a sponsor every year since the Rolls-Royce headquarters was launched in 2003," he said. "It is a spectacular opportunity for us to leverage that."
Rock and Rolls
This year, the Rolls-Royce showroom at the March Motor Works took on the look and feel of the '60s, a period that is represented at the Goodwood Revival event.
The automaker created the setting with original vintage signage, memorabilia, a showroom manager dressed in '60s-era business attire and a large safe in one corner of the space.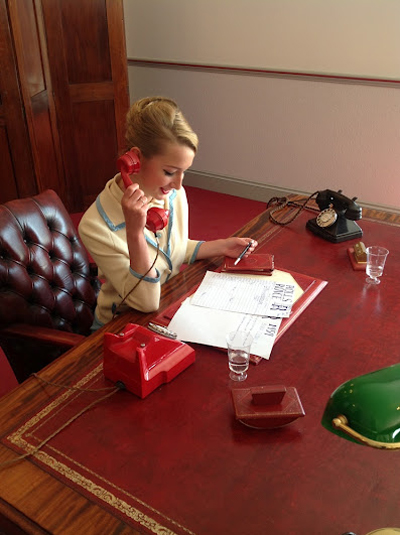 Showroom character
Rolls-Royce also featured the black 1962 Silver Cloud II Drophead Coupé displayed with a "for sale" sign.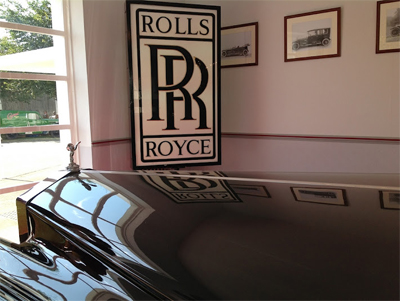 Goodwood Revival showroom
During the Goodwood Revival weekend, period movie star characters visited the showroom with paparazzi following their every move. There was also a group of Goodwood Runners that held back lively fans.
Rolls-Royce also had a presence on the Motor Circuit at Goodwood Revival. Its light blue Silver Cloud I Drophead Coupé was part of the Course Director's entourage and drove more than 100 special guests throughout the weekend.
Rolls-Royce's event was enhanced this year through the increased scale of Goodwood Revival, per Mr. Ball. The weekend sold out for the first time before Revival Friday.
The automaker hosted the largest number of media guests at the event than it has in the past, he said.
"First and foremost, a rich heritage is one of the most important brand characteristics for luxury brands," said Garen Moreno, Los Angeles-based partner at CuldeSac. "The timeless elegance of vintage cars inspires many to become fans of luxury car brands and there is no better place than the Goodwood Revival to take an authentic trip into the past.
"Taking customers back to the '60s when the 'modern era' was romanticized and many aspects of timeless design were evident is an easy fit for Rolls-Royce to put on a good, clean show at Goodwood," he said.
Getting personal
Rolls-Royce's consumer engagement strategy across all markets seems to focus on one-on-one interactions.
For instance, Rolls-Royce is a partner brand for private aviation provider Flexjet's 11-city U.S. tour of its parent company Bombardier's new Learjet 85 aircraft.
The automaker is one of four partners and will have its Phantom Series II and Ghost models on-hand for test-drives to target ultra-affluent consumers one-on-one (see story).
In addition, Rolls-Royce upped its presence among China's elite through a meeting with the China Entrepreneur Club, a group comprising the most prominent and important businessmen in the market.
Given that China was the No. 1 sales market for Rolls-Royce last year, the automaker was likely attempting to maintain this relationship through close, personal contact (see story).
The Goodwood Revival event helped Rolls-Royce reach consumers near its headquarters as well as international attendees, per Mr. Ball.
In fact, the automaker hosted guests from Thailand that were invited through its Thai dealership.
"The way that we use this event is for us to host a hospitality event," Rolls-Royce's Mr. Ball said. "We take the opportunity to share this amazing and very British event with those who are our customers, prospects, VIPs and media.
"We want to ensure that key guests have a fabulous time and experience the amazing event, but also experience a little bit of the Rolls-Royce lifestyle that our customers might have every day through our products," he said.
Furthermore, the event will likely strengthen Rolls-Royce's long-term consumer relationships, per CuldeSac's Mr. Moreno.
"As a luxury car manufacturer whose bespoke details make each buying experience exclusive, every time you can bring a consumer, aspirational or target close to those elements that make your brand unique -- heritage, a flagship product, personal attention and design -- you get closer to building a long-term relationship," Mr. Moreno said.
"As consumers, we strive for identification through the products we buy, and if any of those unique elements are aspirational attributes that can be communicated through a well thought-out brand experience, then initiatives like the showroom at the Goodwood Revival are succesful in strengthening those emotional ties," he said.
Final Take
Tricia Carr, editorial assistant on Luxury Daily, New York