British automaker Rolls-Royce Motor Cars is flaunting its role in the Art Deco movement through a bespoke collection and a set of three art prints that the automaker unveiled at the Paris Motor Show.
Rolls-Royce showed Art Deco-inspired Phantom Saloon, Phantom Drophead Coupé and Ghost vehicles at the auto show and will make an exclusive collection inspired by these models available for purchase to its clients, per the automaker. These efforts are likely targeting Rolls-Royce's older customers who buy into the brand for its longtime reputation.
"The cars will showcase our bespoke capabilities and tie in the long heritage that Rolls-Royce has had with Art Deco," said Kristina Marchitto, head of corporate communications at Rolls-Royce Motor Cars North America, Woodcliff Lake, NJ.
"Rolls-Royce is known for building bespoke vehicles for its owners and this shows our capabilities that might inspire our clients with new ideas for their own vehicles," she said.
Art Devo-driven
The three-piece Art Deco vehicle collection debuted at the Paris Moto Show as a tribute to the 1925 Exposition Internationale des Arts Décoratifs et Industriels Modernes that gave the movement its name, per Rolls-Royce.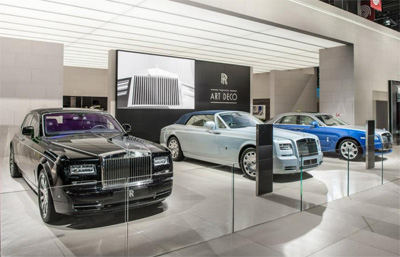 Art Deco collection
The collection's black Phantom Saloon features a black-and-white interior with Art Deco-inspired green detailing, stainless steel inlays and geometric coachline pattern.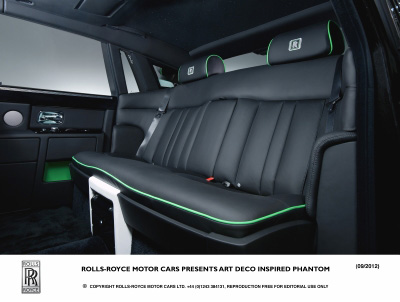 Phantom interior
The two-tone Ghost model is cobalt blue with a silver top. The while interior features Art Deco-themed designs on wooden surfaces.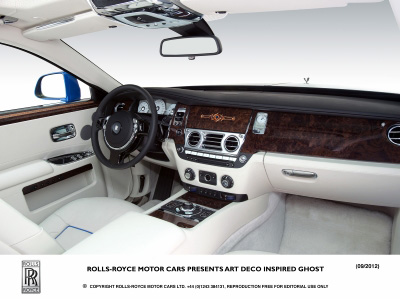 Ghost interior
Also, the Phantom Drophead Coupé on show featured mother of pearl onlays.
Meanwhile, Rolls-Royce will make versions of its models available for purchase to its customers.
New options available for the Phantom model include exterior colors infinity black, Arabian blue, powder blue and arctic white as well as period-inspired coachline motifs and an illuminated Spirit of Ecstasy.
Inside, headrest embroidery and inlays on black veneer and tread plates will add to the Art Deco feel of the car.
Additionally, the Ghost model will be offered in exterior finishes of infinity black or arctic white and will also have custom coachlines and an illuminated Spirit of Ecstasy.
The black-and-white interior features Art Deco inlays, Olympia-inspired motifs on tread plates and headrest embroidery and a choice of four seat piping colors.
Exhibiting class
Rolls-Royce pushed its Art Deco collection reveal through a Champagne reception Sept. 27 during which it showed three period-style posters of the models.

The invitation-only celebration was held on its stand at the Paris Motor Show.
The posters are also being spread via Rolls-Royce's digital channels such as Facebook and its Webs site. They were created by the Rolls-Royce design team.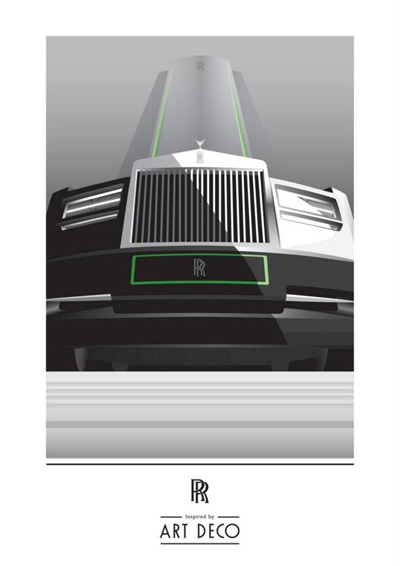 Art Deco poster
Consumers can browse the art prints, view a video and read an explanation on Rolls-Royce's involvement in the Art Deco moment from a section on the automaker's Web site that it is currently promoting on the homepage.
For instance, the automaker states that "The Spirit of Ecstasy, created by sculptor Charles Robinson Sykes in 1911, could be described as a prequel to the movement."
This is not the first time that Rolls-Royce has used historical collections and art to get attention from its target consumers.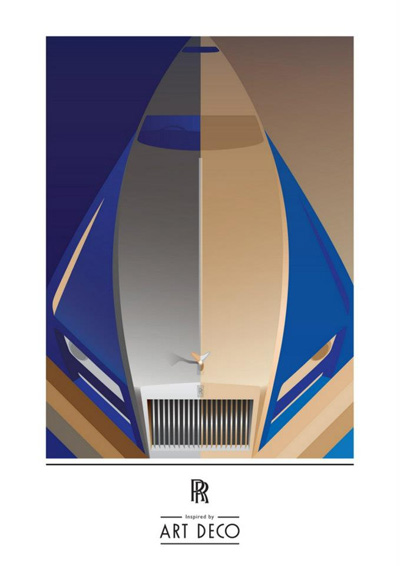 Art Deco poster
For instance, Rolls-Royce debuted the Phantom Coupé Aviator Collection, an aviation-mirrored line inspired by founder Charles Stewart Rolls, at Pebble Beach Quail in August (see story).
Also, the automaker commemorated the 100th anniversary of its hood ornament, the Spirit of Ecstasy, by driving customers to its showrooms to view special portraits by the photographer Rankin.
The photographer took 100 photos inspired by the Spirit of Ecstasy to be shared in Rolls-Royce dealerships (see story).
The Art Deco collection may help Rolls-Royce stand out at the auto show through entertainment rather than a cookie-cutter model reveal.
"The strategy was to celebrate with a festive atmosphere instead of a traditional speech," Ms. Marchitto said. "It helps us to introduce our cars to a global audience."
Final Take
Tricia Carr, editorial assistant on Luxury Daily, New York