Montblanc, a maker of writing instruments and watches, is driving ecommerce by offering customers the chance to purchase a bracelet as a holiday gift for a parent of a cancer patient at the Texas Children's Cancer Center.
This year's program is a continuation of the partnership specifically designed for the holiday season since the bracelet will be a gift. The bracelets are priced at $345 of which $50 goes directly to the center to support patient care and research.
"This partnership is an example of Montblanc's brand identity, which is committed to philanthropy and cultural awareness," said Jan Patrick Schmitz, president of Montblanc North America.
"Parents of children with cancer are everyday heroes who put on a brace front in the face of adversity," he said. "We wanted to honor their unsung courage by creating the Join to Care section of the Montblanc Web site where everyone around the country can visit the Web site to purchase a bracelet for a parent of a patient at Texas Children's Hospital.
"The partnership has positively impacted and brightened the holiday season for families of children with cancer."
Texas Children's Cancer Center, located at the Texas Medical Center in Houston, is the largest pediatric cancer center in the United States.
'Tis the season
The bracelet released just in time for the holiday season so that affluent Montblanc customers could give it as a gift to a parent of a patient.
Customers are able to purchase bracelets for themselves as well. They can be purchased at www.montblanc.com/texaschildrenshospital/jointocare.
For each purchase of the bracelet, $50 of the proceeds will be given directly to the Texas Children's Cancer Center.
The bracelet is woven black leather with a stainless-steel clasp that features the charity logo on the clasp.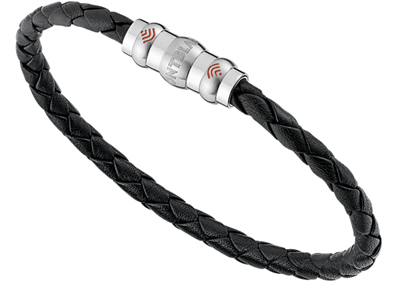 Montblanc bracelet
Montblanc's Web site displays how much money has been raised for the $85,000 goal. There is also a countdown of how much time is left to purchase a bracelet.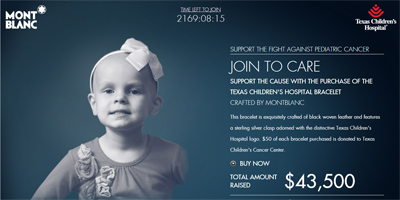 Charity partnership Web site
Pushing this campaign during the holiday season may help the brand and charity reach its donation goals as people are looking to give back during the holidays.
The brand is likely playing on the gift-giving spirit around the holidays.
"Philanthropy should be an integral part of every luxury marketer's playbook," said Chris Ramey, president of Affluent Insights, Miami.
"Every luxury brand has to draw on emotion, and giving a one-to-one connection to a parent of a child who has cancer is emotional," Mr. Ramey said. "Part of celebrations is knowing what you can do for others."
Commitment to charity
Montblanc previously partnered with the Texas Children's Cancer Center to create two special-edition bracelets to benefit the cause. This partnership was the first regionally-focused corporate social responsibility project from Montblanc (see story).
The brand is also involved with other charities.
Montblanc supported the efforts of an organization dedicated to helping those with intellectual and developmental disabilities by donating 11 percent of its March 2011 proceeds to Best Buddies International.
This initiative lasted for 11 days. Montblanc donated 11 percent of its proceeds from 11 of its U.S. stores (see story).
Also, Montblanc created a collection to honor Princess Grace of Monaco that included a jewelry set, timepiece and writing instrument that reflect the style and elegance of Princess Grace, and made a $1 million donation to her namesake foundation.
Every piece of the collection contained rose petal details as a tribute to the many roses that were named after the princess, who was formerly known as the actress Grace Kelly (see story).
Collaborations with charities are important for luxury marketers since their customers can afford to give back to others.
"The mass market responds to greed and fear, but the luxury market responds to greed, fear and good," Mr. Ramey said.
"When you have anything money can buy, giving back to those less fortunate becomes necessary," he said.
Final take
Erin Shea, editorial assistant on Luxury Daily, New York