Belgraves, a Thompson Hotel in London, is hosting two events in a series called "The January Blues" to boost foot traffic, stay top of mind to local consumers and maximize revenue.
The property is pushing its on-site bar and music offerings by hosting two events this month that center on the notion of overcoming the winter blues. The first event was held Jan. 16 and the second event will be held Jan. 30.
"The strategy was to create a light-hearted story that would not only drive foot traffic into the hotel during a socially quiet month, but also to expand Belgraves musical repertoire and demonstrate its varied offering in this space," said Dagmar Noe, sales and marketing director at Belgraves, a Thompson Hotel, London.
"The January Blues activity is targeting both the local and wider domestic market," she said. "Hotel guests will also benefit from the activity, too."
Chase the blues away
The Bar at Belgraves typically holds jazz nights once every two weeks, but this month two January Blues events will replace the normal set.

The first music event took place Jan. 16 with a performance by The Blues Engineers Trio.
The group has previously performed with entertainers such as BB King, Eric Clapton, Peter Green, Mick Taylor, Jools Holland and Bill Wyman's Rhythm Kings and frequents blues festivals around the world.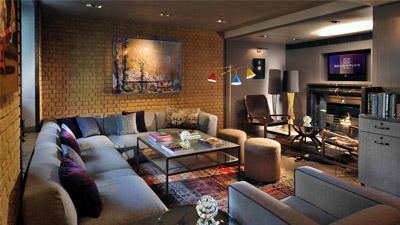 The Bar at Belgraves
The final January Blues event will be held Jan. 30 with Milton & Farrow and special guest Alan Glen.
Milton & Farrow comprises rhythm and blues artist Richie Milton of Richie Milton and The Lowdown and bluesman Bill Farrow. Their new album titled "Barefoot & Blue" features British harmonica player Alan Glen.
The Bar at Belgraves is offering cocktails and snacks during January Blues events.
Attendees get a complimentary cocktail called "Chase the Blues Away," which is a recipe with ingredients including Wild Turkey bourbon, lime juice, Angostura bitters, St Germain elderflower liqueur and ginger beer.
January Blues nights are held 7-11 p.m.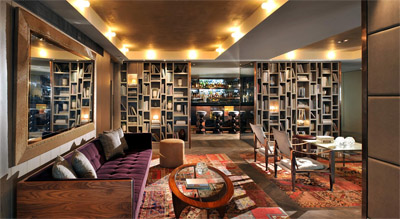 The Bar at Belgraves
Slow season
There are quite a few ways that luxury hotels are gaining foot traffic during a traditionally slow season, especially those in cities that are experiencing cold weather.

For example, The Ritz-Carlton New York, Battery Park, is boosting foot-traffic by offering an ice-skating package throughout the winter season.
The "Skate and Stay" package gives guests access to the ice skating rink at Liberty View Skate Park at the Robert F. Wagner Jr. Park in Lower Manhattan in New York.
Guests can also enjoy other hotel amenities including priority access to the skating rink, wool scarves to keep warm, suite accommodation and breakfast from 2West restaurant (see story).
In addition, Four Seasons Chicago's bar and restaurant Allium is looking to distract guests from their New Year's resolutions through all-you-can-eat dinner specials.
Beginning Jan. 1, Allium is offering three-course dinners with extra entrée helpings and special beverage pairings. There is a different special each day Monday-Friday during the first month of the year (see story).
"Foot traffic is particularly important in January as traditionally occupancy is lower," Ms. Noe said. "Therefore, hotels have to demonstrate a wider offering to encourage the local market to visit and enjoy.
"Events for the local neighborhood are a proven way to maximize revenue as well as strengthening relationships," she said.
Final Take
Tricia Carr, editorial assistant on Luxury Daily, New York