Four Seasons Hotel, Baku, Azerbaijan, is attracting guests with a series of special offers throughout the hotel to celebrate International Women's Day.
The hotel will offer exclusive spa treatments, special menus and a contest for guests who dine at the property's restaurants. Four Seasons is boosting the guest experience by aligning these offers with the March 8 holiday to entice guests to make a reservation.
"When it comes to holiday offers for hotels, it always provides a great theme for these special packages created with the expectations that they will increase the number of guests during the promotional period," said D.M. Banks, director at DMB Public Relations, New York.
"In many cases, people are taking the time to enjoy travel during holidays, which does open these promotions to a larger number of the hotel's target demographic," he said.
Mr. Banks is not affiliated with the Four Seasons, but agreed to comment as an industry expert.
Four Seasons Hotel, Baku, did not respond before press deadline.
Ladies only
The hotel is incorporating special surprises throughout the property for women to celebrate International Women's Day.
The hotel's Jaleh Spa will offer a special wrap and facial package using the Comfort Zone spa products from Italy. The 90-minute experience uses powerful antioxidant minerals with relaxing massage techniques.
The treatment includes a scrub made from fruit extracts, a mud body wrap, a light body massage and a mini-facial. It is priced at approximately $230.
The hotel's restaurants will also offer exclusive menus March 8.
Zafferano restaurant will have an Italian-themed dinner in addition to the a la carte menu and live entertainment including Italian pianist and singer Federico Spagnoli.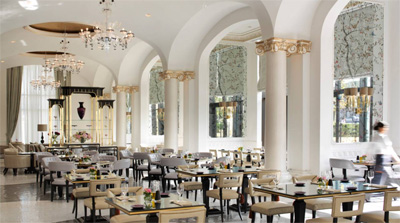 Zafferano
Moreover, Kaspia Restaurant and Bar will be serving blue lobster, trip of black angus beef, veal filet with coffee and other items off its a la carte menu.
Guests who make reservations at either one of the restaurants March 8 will be automatically entered for a chance to win several prizes such as dinner for two at one of the eateries.
The winning guests will be announced on the hotel's Facebook page and Twitter account March 9.
Special occasions
Another luxury hotel is also planning special celebrations for the International Women's Day weekend.
Hotel brand Dorchester Collection is toasting women and its female sommeliers from three properties with the first "Women in Wine Road Trip" event to celebrate International Women's Day March 8.
The Women in Wine Road Trip comprises events at three Dorchester Collection properties in Europe March 6-8. At each event the sommeliers will discuss wine topics and working in a male-dominated industry (see story).
Hotels should leverage low-key holiday offers to increase bookings. Special offers for smaller holidays help the hotel give its guests additional experiences.
"In many cases, affluent travelers will stay at the property they desire when traveling for business and pleasure, regardless of promotional offers," Mr. Banks said.
"However, these types of offers and special features do create a more enhanced experience for guests," he said.
Final take
Erin Shea, editorial assistant on Luxury Daily, New York