Menswear label John Varvatos is marrying its roots in both the fashion and music industries through participation in "HuffPost Style Sessions" at Austin, TX's SXSW 2013 festival.
HuffPost Style, the fashion section of online news outlet Huffington Post, is hosting a chat series at SXSW's The Neighborhood, which is a new product and lifestyle showcase March 11-14 in the 2nd Street District in Downtown Austin. The question-and-answer sessions will be hosted by HuffPost Style executive editor Anya Strzemien and involve personalities in the fashion, music and technology fields including designer John Varvatos, designer Billy Reid and New York DJ Mick Boogie.
"I think there is only something to gain by getting to know [a designer] more intimately on a one-on-one intimate bases, not just quick Q&A, but one hour to get into the deeper subjects," Ms. Strzemien said.
"There is some risk that it is not carefully controlled and packaged as a publicist might want," she said. "But the deeper our conversation can get, the more interesting it will be.
"John Varvatos as a designer takes his brand very seriously and his role in this work and charity very seriously."
Music to my ears
The Neighborhood at SXSW was created by production agency AvecMode to feature pop-up shops, expert panels and parties that center on the lifestyle of consumers who attend the festival.

AvecMode was previously responsible for creating SXSW's "Style X" events in 2011 and 2012.
The new experience will cater to the "style-savvy techie" and music fans, per HuffPost Style.
The Style Session March 14 with Mr. Varvatos will explore fashion and music. Videos of this and other chats will be posted to HuffPost Style following the sessions.
John Varvatos' ad campaigns often center on its musical influences and Mr. Varvatos' involvement in the music industry.
For instance, the brand is targeting music fans through its spring/summer campaign that features Rock and Roll Hall of Fame inductee Jimmy Page and musician Gary Clark Jr.
In fact, Mr. Clark found fame during previous SXSW festivals.
The spring/summer campaign is being pushed through images and video. It showcases the new collection, but also highlights the musical talents of both Mr. Page and Mr. Clark (see story).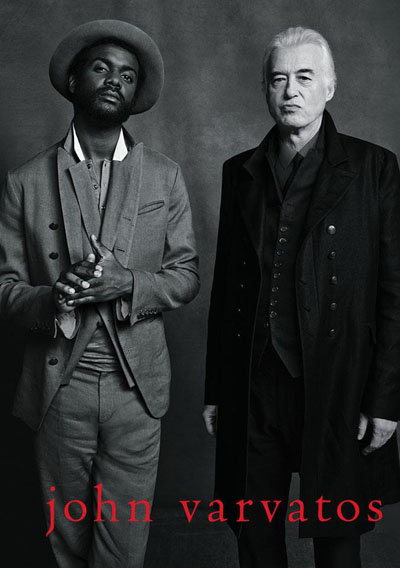 Spring/summer campaign
Out of your comfort zone
There are other industries outside of fashion where marketers have positioned themselves to reach a new prospects.
For example, London-based department store Harrods boosted its status in the food industry through a digital photography campaign that transformed the retailer's ecommerce site into a stylish culinary experience during the month of October.
Harrods featured "Style to Savour" campaign photography shot at its on-site cafes on each section of its ecommerce site's parallax scrolling homepage and in a food-themed shopping guide (see story).
Also, footwear label Stuart Weitzman eyed theater enthusiasts and young consumers by pushing a new fairy tale-inspired collection through the March 3 Broadway debut of Rodger and Hammerstein's Cinderella (see story).
John Varvatos will likely gain attention from millennial consumers at SXSW who have come to explore the products and events at The Neighborhood.
"Today's luxury brands find their inspiration from many channels including emerging artists, up-and-coming musicians and street style," said Elizabeth DeMaso, managing director of Clutch Collective, New York. "Tapping into that culture breathes life and excitement into established luxury brands.
"With a cross-section of both proven and new talent gathered in one place, it's a week for everyone to explore new directions and ideas," she said. "The combination of SXSW with Huffington Post promises to be an arena for thought-provoking conversations.
"For John Varvatos, it is an opportunity to express his point of view to the creative industry and further establish his role as a fashion tastemaker."
Final Take
Tricia Carr, editorial assistant on Luxury Daily, New York