Italian label Dolce & Gabbana is gaining exposure for its new London boutique through a celebration with British GQ that will be a part of the British Fashion Council's London Collection: Men's spring/summer 2014 showcase.
On June 13, designers Domenico Dolce and Stefano Gabbana will join Dylan Jones, editor in chief of Condé Nast's British GQ magazine, to celebrate the opening of the boutique and present the summer 2014 collection. Opening a new retail location with an exclusive event and a media partner can help the store get noticed by consumers.
"With so many luxury brands opening new stores all over the world, it is a good idea to have a media partner to ensure coverage of the opening," said Jordan Phillips, author of "The Lure of Luxe," New York. "New stores are not necessarily big news anymore.
"Dolce & Gabbana is wise to throw the opening party for its New Bond Street store in partnership with British GQ during a major menswear event," she said.
"The brand is looking to expand its presence in London, and British GQ seems like a natural fit to do so."
Ms. Phillips is not affiliated with Dolce & Gabbana, but agreed to comment as an industry expert.
Dolce & Gabbana did not respond by press deadline.
Mixing cultures
Dolce & Gabbana's presentation of its summer 2014 tailoring collection for men will be presented June 13 during the London Calling: Men's official event.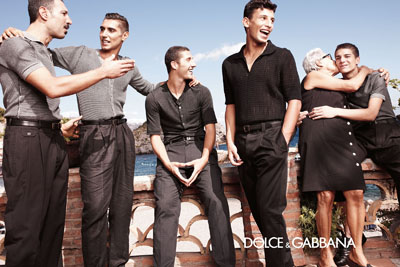 Dolce & Gabbana spring/summer 2013 menswear
This event will help launch the new retail location, which is located at 53-55 New Bond St. in one of the city's shopping districts.
This will be the label's fourth boutique in London.
However, this boutique on New Bond Street blends the classic Dolce & Gabbana look with the identities and traditions of the city in which it is located since it is part of a creation of special stores by the brand.
The boutique's structure was also designed to combine British and Italian culture.
Coming in with a bang
A few luxury brands have creatively opened stores to gain consumers' attention.
For instance, British fashion house Burberry celebrated the opening of its Chicago flagship store with a physically- and digitally-immersive event that showcased weather and city residents.
The event Nov. 29, 2012 showcased Burberry's Art of the Trench images that featured Chicagoans wearing the brand's iconic trench coats. The images were shown in the store, around the city and across the brand's social media (see story).
Also, Jeweler Tiffany & Co. celebrated the opening of its SoHo store in New York by allowing artists to create images of what they believe true love to be on the hoarding that surrounds the storefront.
Throughout the summer of 2012, the artists added to the hoarding to create murals inspired by True Love (see story).
Since consumers are currently buying luxury, brands should look to expand their retail presence where consumers demand it.
"Though I am in favor of tightly-controlled brick-and-mortar growth for luxury brands, now does seem like the right time to expand in the major shopping capitals," Ms. Phillips said.
Final take
Erin Shea, editorial assistant on Luxury Daily, New York