Financial Times' annual Business of Luxury Summit 2013 will take place June 2-4 at Palais Liechtenstein, Vienna, and will follow the theme of "Power, Politics and Profits."
The focus for the conference was construed from the recent success of the luxury industry and its influence on European markets. Speakers and panelists include executives from Kering, Gucci, Hugo Boss, The Jones Group, Ferragamo, Fabergé, Moët Hennessy and Swarovski as well as the mayor of Florence.
"It really began with the success of the luxury industry over the last three to four years since the recession and the realization that luxury is an increasingly important source of income for people – as in employees of these brands – in Europe and the European government," said Vanessa Friedman, fashion editor at Financial Times, New York.
"We really wanted to take this opportunity to look at where things stand in terms of luxury goods and their profits and their relationship to the power structure," she said.
Let's get political
Keynote presentations and industry panels at the FT Business of Luxury Summit will dissect the current work of the luxury industry in Europe.
The content includes what the health of the industry means for luxury overall and individual brands and how luxury companies can benefit from the state of the industry.
Topics that are up for discussion include trade and tariff legislation, free trade agreements, IP Restriction and other issues that are at the core for the industry today.
The summit is meant for attendance by luxury brand executives, industry leaders, corporate decision makers and financiers.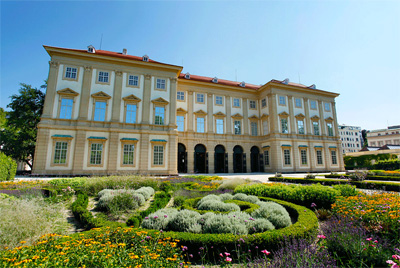 Garden Palais Liechtenstein
Aside from the June 2 welcome reception hosted by Financial Times' group CEO John Ridding, the summit will kick-off June 3 with remarks by Lionel Barber, event chairman and editor of Financial Times, and the opening keynote titled, "The power of luxury" with Karel de Gucht, commissioner for trade at the European Commission.
Other sessions to be held that day include "Macro-economics: What the global economy means for luxury, and how it will affect power structure," "The politics of global luxury," "Case studies : The best ownership model for maximizing profits and power," "Cross-border collaborations as effective power play," and the closing keynote titled, "Building a new market."
A gala reception will be held that evening at the Great Gallery at Schönbrunn Palace, Vienna.
On June 4, the summit will close with an opening keynote from Florence' Mr. Renzi; the "Manufacturing power" panel with executives from Hugo Boss, Swarovski, Vertu and Citi; the "Retail Power" discussion with Philipp Gajzer, managing director at Move Now Commercial Brokers, and Joseph Sitt, president/CEO of Thor Equities; and the "Philanthropic power" section with a keynote from Patrizio di Marco, president/CEO of Gucci and a panel with executives from Ferragamo USA, Fabergé and MAK – Austrian Museum of Applied Arts / Contemporary Art.
The full program for the FT Business of Luxury Summit 2013 is available here: http://www.ftbusinessofluxury.com.
Luxury revival
The summit takes place at a time when the European Union, European Commission, Britain and other markets abroad are realizing that luxury is an essential industry for their economies, per Ms. Friedman.

Fueled by current consumption habits and key global markets, luxury goods revenues could grow as much as 50 percent faster than the global gross domestic product, according to a new report from Bain & Co.
The luxury sector is also forecast to grow 4-5 percent in 2013 with a 5-6 percent annual growth average until 2015.
Europe, due to slow tourism as travelers choose new destinations as well as a slowdown in spending among its citizens, is expected to have up to 2 percent growth, according to Bain (see story).
Another new report from Walpole British Luxury and Ledbury Research found that despite uncertain economic times in Europe, the British luxury sector is on track to grow 12 percent this year (see story).
The luxury industry today is in a good position to continue growing.
"Our indicators have found that luxury will flow," Ms. Friedman said. "It's on an exponential trajectory of growth."
Final Take
Tricia Carr, associate reporter on Luxury Daily, New York