New York's Gramercy Park Hotel is targeting eco-friendly consumers by providing guests with bikes designed by Brazilian advertising executive Lorenzo Martone.
The bikes arrive on the heels of similar programs that have been enacted at other hotels in Moscow and Aspen. Other luxury hotels have also introduced health programs to accomodate health-conscious guests.
"We wanted to put our own spin on the bike craze that's hit New York City and offer art-driven bikes for our art-driven hotel," said Patrick Hall, vice president of hotel operations at RFR Holding LLC, New York.
"The new custom bikes by Lorenzo Martone are sexy, chic and artistic - perfect for riding around the hotel's downtown neighborhood," he said.
RFR Holding owns Gramercy Park Hotel.
Spot the color
Gramercy Park Hotel's new bike program may find eager consumers in a city that has been pushing for wider tolerance of bikes.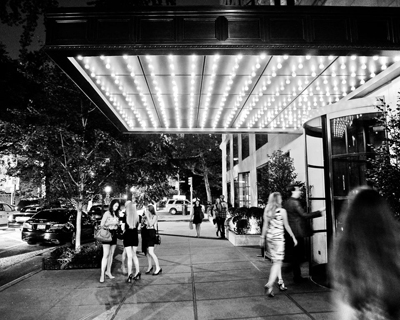 Gramercy Park Hotel
Similarly, bikes are attractive to consumers who find solace in activities that are good for the environment and the body.
By introducing the program during the summer, the hotel may see an early spike in usage.
Mr. Martone recently released his bike collection, Martone Cycling Co., and agreed to create an exclusive range of bikes for the hotel.
The bikes are all-white with a red chain and adorned with GPH license plates. This design distinguishes them from the bikes available from New York's Citi Bike program. They will be situated outside of the hotel for guest use.
The hotel encourages guests to explore the surrounding area to get a better sense of the hotel's heritage.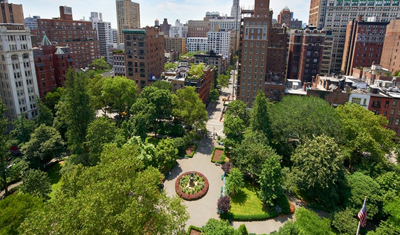 Gramercy Park
Answer before the call
Many hotels have noticed the rising shift in affluent consumer attitudes and have met them with new eco- or health-centric initiatives.
For instance, Trump Hotel Collection is tailoring the travel experience for health-conscious guests with its new Trump Wellness program.
The brand is offering guests three new programs starting June 17 that help them maintain a healthy lifestyle while traveling for vacation or business. The program ties into the hotel group's "Live the Life" slogan by offering affluent consumers more options to personalize their stay (see story).
Similarly, the Ritz-Carlton, Washington, DC, is renewing its culinary menus by adding options for the influx of affluent travelers who stick to their healthy lifestyle while away from home (see story).
In addition to rejuvinating the dynamics of the hotel, these initiatives may attract pockets of new consumer who tailor their travel experiences based on these preferences.
"It's an alluring way to encourage guests who want to be trendsetting to also be eco-friendly in the way they explore New York,"said Tiffany Dowd, founder and president of Luxe Social Media, Boston.
"Adding this line of chic and luxe bikes is a creative way for Gramercy Park to embrace the new trend in Citi Bikes being used throughout New York and add a unique flair," she said.
Final Take
Joe McCarthy, editorial assistant on Luxury Daily, New York