British automaker Bentley Motors is elevating its partnership with Swiss watchmaker Breitling by touting soccer star David Beckham as the campaign's ambassador.
The Breitling for Bentley collection features numerous automotive-inspired watches that will likely attract automotive fans. Mr. Beckham already acts as Breitling's global brand ambassador so extending his presence to Bentley signals the strong rapport between the two brands.
"Breitling for years has been advertising itself as the watch for pilots with the theme, 'Instruments for professionals',"said Al Ries, founder and chairman of Ries & Ries, a Roswell, GA-based marketing strategy consultancy.
"John Travolta who has a jet-plane pilot's license was one of its key endorsers," he said. "What Breitling has obviously decided is that the campaign needs to be broadened beyond pilots to motorists.
"But not just ordinary motorists. Celebrities like Beckham who drives a Bentley, not a common car."
Mr. Ries is not affiliated with Bentley, but agreed to comment as an industry expert.
Bentley did not respond by press deadline.
Face of the watch
The Breitling for Bentley collection contains watches inspired by British automaking and Swiss watchmaking. The watches house what Breitling refers to as engines and carry a winged "B" symbol to honor Bentley.
A Web site details the various elements of the partnership and can be found at: http://www.breitlingforbentley.com/en/breitling-for-bentley/. For each watch, interested consumers can learn about the presentation, technical data and configurator.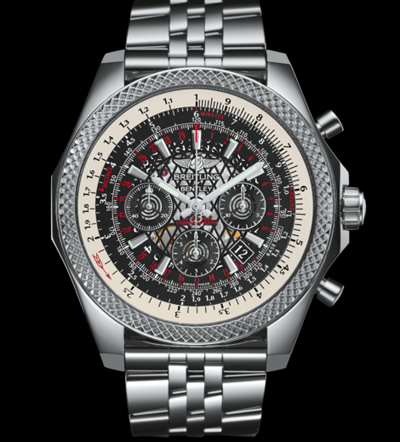 Bentley B06
Consumers can also customize the different parts of each model's appearance such as straps, cases and dials.
A 24-hour Breitling for Bentley journey from Crewe, England to La Chaux-de-Fonds, Switzlerland is outlined on the Web site to give a tangible representation of how the two brands are bridging distances to come together.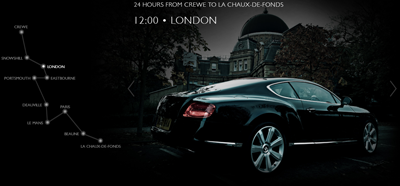 Breitling for Bentley "A 24 H Journey"
To celebrate Mr. Beckham's addition to the partnership, Breitling for Bentley has released a video highlighting key products.
The video shifts between close-ups of the watches and a Bentley vehicle racing through various scenes while music plays.
The Essence of Britain: made in Switzlerland by Breitling
Bentley is promoting the new collection via its social media pages.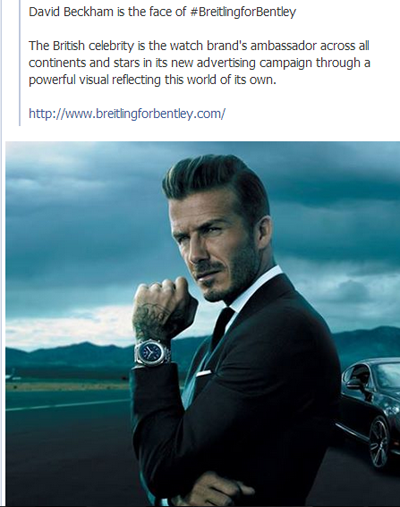 Bentley's Facebook page
Scoring goals with tourbillons
Athletes are commonly employed by watchmakers to spur brand awareness with their star power. A number of other athletes have been involved in similar campaigns.
For instance, Swiss watchmaker Richard Mille targeted affluent female consumers with two new partnerships that embed the brand in women's golf and demonstrate its commitment to top-tier performance in sports.
The watchmaker is the major partner in the Lacoste Ladies Open Tournament and selected golf champion Diana Luna as the brand's first female sporting partner. Delving into a sport with an event partnership and brand ambassador will give the brand much exposure at the event (see story).
Also, Swiss watchmaker Hublot targeted Miami Heat fans by honoring the team's victory over the San Antonio Spurs in the 2013 National Basketball Association finals with new timepieces.
The watches come as an extension of the brand's already established partnership with the Miami Heat through its position as official timekeeper and its brand ambassador, Heat player Dwayne Wade. Linking up with eminent sport figures and teams is an effective way to tap into large segments of prospective consumers and borrow traits that will enhance the brand image (see story).
However, a campaign with any celebrity should be carefully calibrated lest it come off as being hastily put together.
"I question whether or not this will work," Mr. Ries said. "The aviation theme is strongly positioned in prospects' minds and the motorist idea is just going to confuse the positioning of the brand.
"You don't need a watch to drive a car, but a watch can be handy when you are flying an airplane," he said.
"That's why the original idea of a watch for pilots is probably a much better idea."
Final take
Joe McCarthy, editorial assistant on Luxury Daily, New York