U.S. fashion brand Ralph Lauren is showing its commitment to restoring historic Paris arts school École des Beaux-Arts by staging its first runway show Oct. 8 outside the United States at the venue.
The restoration project gives brand enthusiasts a glimpse of what is important to Ralph Lauren in a way that diverges from normal fashion-focused initiatives. Collaborations that protect historical places or objects resonate with culturally-inclined consumers.
"There's a strong trend toward global brands and I'm surprised it has taken this long for Ralph Lauren to hold a runway show outside the U.S.," said Al Ries, founder and chairman of Ries & Ries, a Roswell, GA-based marketing strategy consultancy.
"While there is a strong trend toward global brands, it doesn't mean that a global brand is going to lose its national heritage," he said.
"Ralph Lauren will always be a 'global brand from America,' Chanel will always be a 'global brand from France' and Prada will always be a 'global brand from Italy.'"
Mr. Ries is not affiliated with Ralph Lauren, but agreed to comment as an industry expert.
Ralph Lauren and École des Beaux-Arts were unable to comment directly before press deadline.
School of art
The École des Beaux-Arts in Paris was established in 1648 and is one of the most influential art schools in the world.
Located in the 6th arrondissement, the school is across the Seine river from the Louvre and has an impressive list of alumni that includes the painters Renoir, Degas, Monet and Matisse.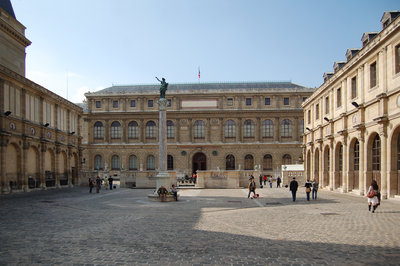 Ralph Lauren, founder of the Ralph Lauren brand, has cited Paris as a driving influence throughout his career. Mr. Lauren's association with French heritage makes this restorative project a personal endeavor that will likely attract the interest of brand enthusiasts and art aficionados alike.
Over the span of two years, Ralph Lauren will be donating funds to the careful restoration of the École des Beaux-Arts. The program includes restoring marble columns, frescos and other objects of art found within the school, as well as modernizing the facility.
In a video promoting the restoration project, Nicolas Bourriaud, the director of the École des Beaux-Arts, explains that the school has ambitions to return to its former status as a global art school and to do so it made perfect sense to partner with a global brand.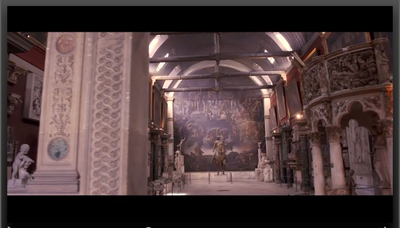 École des Beaux-Arts video still
The video tells the history of the École des Beaux-Arts while going through rooms to reveal the building's artwork and the architecture of its courtyards and classrooms.
Ralph Lauren helps restore Paris's iconic École des Beaux-Arts
The restoration of the school's buildings is only a fraction of a broader Beaux-Arts preservation campaign. A series of events will continue the brand's commitment to philanthropy and its sponsorship of the École des Beaux-Arts.
Ralph Lauren's main celebratory event includes an exclusive dinner gala set in the courtyard of the school where the brand will present its fall 2013 collection. The brand has never before shown a collection outside of the U.S., which conveys the importance Ralph Lauren has placed on the partnership.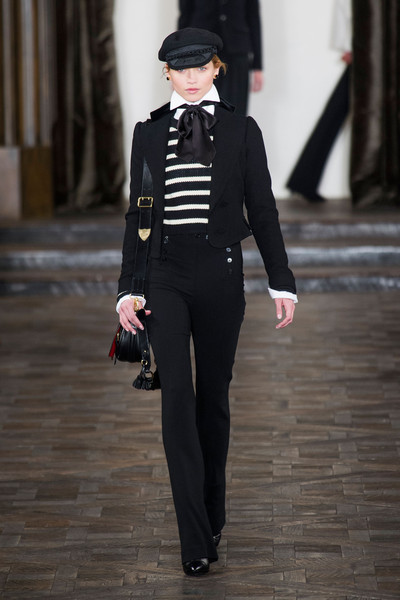 Ralph Lauren's fall 2013 runway show during New York Fashion Week
Future generations
With the funds to back up large-scale restoration projects, brands have the opportunity to save works of art for future generations, while keeping their names top-of-mind.
For example, Italian fashion house Gucci is continuing its film restoration project with The Film Foundation and Warner Bros. Entertainment that showcases the brand's appreciation for and support of cinematic arts.
Facilitating the restoration of director Nicholas Ray's film, "Rebel Without a Cause," allows the brand to show its enthusiasts a side not based in fashion. Artistic collaborations give brands a way to connect with and change the perceptions of consumers outside their niche (see story).
Brands that collaborate with artists are also able to introduce their products to a new consumer sector.
For instance, Champagne brand Dom Pérignon is using its new Instagram page to show off its collaborative project with artist Jeff Koons as a way to reinvent itself and appeal to younger consumers.
The limited-edition Balloon Venus bottle and gift box was unveiled at a brand event during New York Fashion Week after a two-year collaboration. Collaborations with contemporary artists can reposition a brand's image to appeal to younger consumers, while the limited availability of the product line will still draw brand loyalists (see story).
A collaboration allows for a brand to connect with its target consumers in a new way.
"The first and primary reason to collaborate is to generate publicity," Mr. Ries said. "An art school as famous as the École des Beaux-Arts is bound to generate a large number of favorable stories in the media.
"The second reason is that consumers who are interested in fashion are probably also interested in art," he said. "The two go together.
"Helping an art school should help Ralph Lauren connect with many of its potential customers."
Final Take
Jen King, editorial assistant on Luxury Daily, New York