LVMH's Louis Vuitton has acquired Balenciaga's creative director Nicolas Ghesquière Nov. 4 as artistic director of its women's collections to fill the gap left by Marc Jacobs.
Mr. Ghesquière will begin his post immediately and is expected to show his first autumn collection March 2014. The new creative director will help the heritage brand groom its ever-expanding global assets and instill the aura of exclusivity that he mastered at Balenciaga.
"Louis Vuitton will look at the archives and find new ways to contemporize the brand while keeping its DNA," said Milton Pedraza, CEO of The Luxury Institute, New York.
"Mr. Ghesquière has a history of good brand stewardship," he said. "This is a great opportunity, but it is freedom with boundaries, not a free-for-all.
"Louis Vuitton has to be innovative but predictable, and he has to find that optimization."
Mr. Pedraza is not affiliated with Louis Vuitton, but agreed to comment as an industry expert.
Louis Vuitton declined to comment.
Savoir faire
The French fashion house has been on the hunt for a new creative director for its women's collections following Marc Jacob's announcement, after 16 years, that he was leaving the brand. The fashion world has glibly speculated who could replace such a figure.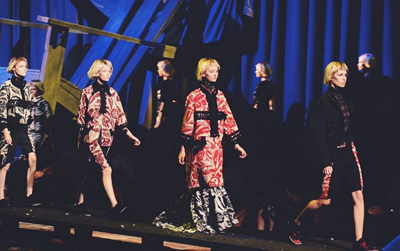 Marc Jacobs fashion show
After months of speculation, Mr. Jacobs declared that he is leaving his position at Louis Vuitton to begin the IPO process for his namesake brand. Mr. Jacobs, business partner Robert Duffy and luxury conglomerate LVMH each own one-third of the brand trademark. Although the move is likely to take a few years, the decision to open the Marc Jacobs brand to public investors will continue to aid its recent growth (see story).
Although it will be hard to replicate the exuberance and relentless creativity that Mr. Jacob's carried, Mr. Ghesquière will likely help centralize the brand's diffuse image around the globe.
Known for his exacting, couture-like approach, Ghesquière could help Vuitton in its quest to accrue a more upscale and elite reputation after years of rapid global expansion and a heavy reliance on monogram canvas, WWD reports.
Since 1997, Mr. Ghesquière helped to secure Balenciaga's status as as elite luxury fashion brand.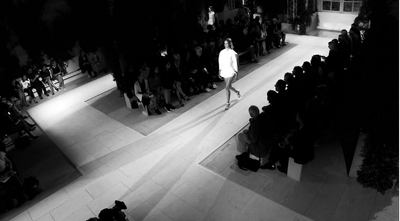 Balenciaga fashion show
Mr. Ghesquière will bring a modern creative vision to the House's women's collections, building on the values of refinement, savoir faire and extreme quality which are at the heart of the Louis Vuitton Maison since 1854, according to the brand's press release.
Executive change
Other luxury fashion labels have adapted to executive transitions recently.
For instance, British apparel and accessories brand Burberry's soon-to-be CEO Christopher Bailey has triggered doubts owing to his creative background, but his collegial relationship with departing company boss Angela Ahrendts and extensive credentials should nullify the skepticism.
Mr. Bailey has spent 12 years absorbing the brand's ideology and helped to spearhead its transformation throughout the past decade. Furthermore, passing the executive baton to a close collaborator of Ms. Ahrendts allows Burberry to continue its trajectory as a design-driven and digitally pioneering brand without interruption (see story).
While Louis Vuitton's acquisition may convey its ability to dominate the industry, its history as a quintessential luxury fashion brand cannot be downplayed.
"The brand is one of the few iconic brands of all time," Mr. Pedraza said. "Designers are compelled to go, the offer it presents can't be refused."
Final take
Joe McCarthy, editorial assistant on Luxury Daily, New York