The Luxury Collection and vintage home decor brand One Kings Lane are switching coasts to tour Vermont, Boston and New York and uncover sales freighted with cultural significance.
Flash sales corresponding to each location on the East coast road trip will be triggered throughout November for fans to access on One Kings Lane's Web site. Luxury Collection stoked the anticipation generated by its West coast road trip by recruiting two celebrated bloggers to chart the trip's course in advance.
"Curated digital programs, like what Luxury Collection and One Kings Lane are producing here with their partnership, are excellent ways to integrate offline and online experiences," said Taylor Rains, account executive at Rawle Murdy Associates, Charleston, SC.
"The campaign also allows consumers to take a piece of the story home with them, which is always a great way to increase the longevity of a campaign," he said.
Mr. Rains is not affiliated with Luxury Daily, but agreed to comment as an industry expert.
The Luxury Collection did not respond by press deadline.
Local feel
To promote the sales-studded road trip, Luxury Collection asked the bloggers Meg Biram and Morrison Curtis to join Day Kornbluth, vice president of merchandising for One Kings Lane, to capture the textures of the journey.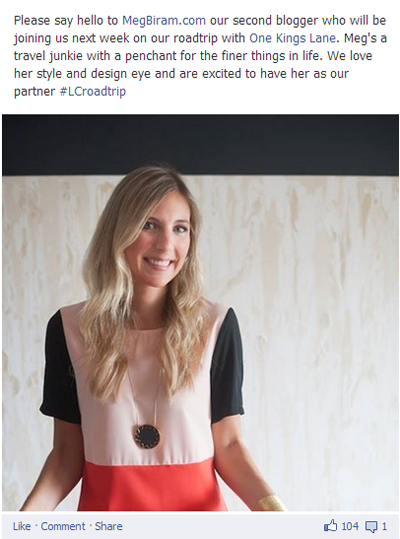 Luxury Collection Facebook page
Ms. Curtis recapped the journey on her blog Pretty Prudent. A brief video portrays the group traveling from destination to destination.
East Coast Road Trip
The expedition's first sale Nov. 12 drew on Vermont's culture and is still available for interested consumers until Nov 16. Some items for sale include vintage snowshoes, a Navajo rug and a Hermès Kelly watch.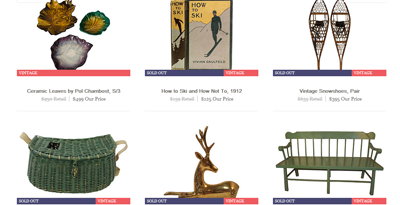 One Kings Lane sale
A Luxury Collection video that accompanies the sale delves deeper into the group's experience in Vermont.
Vermont trip
The proceeding sales focus on New York and Boston and will take place Nov. 19 and Nov. 26.
Guests interested in embarking on a trip of their own can reserve reservations at each of the featured properties that include The Equinox Golf Resort & Spa, Vermont; The Liberty Hotel, Boston; and The Chatwal, New York City.
A microsite that provides further information can be accessed at http://www.theluxurycollectionroadtrips.com/#/east/vermont/.
The Luxury Collection had partnered with One Kings Lane earlier this year to tailor customized experiences and unearth the local treasures of property locations for guests along the West coast.
The partnership offered exclusive sales, dinners and opportunities to road-trip across some of America's quintessential landscapes. San Diego, Los Angeles, San Francisco and Portland composed the showcased itinerary and at each of these locations guests encountered a distinct cultural flavor (see story).
Blogging the world
The Luxury Collection understands the importance of conveying an authentic grasp of a region.
For example, the hotel chain is leveraging the knowledge of its global concierge team with a new storytelling initiative that explores remote and culturally-rich information about certain regions.
The "Certified Indigenous" series provides the concierge team with an opportunity to share travel secrets and impart advice on essential places to visit. Showcasing the expertise of a concierge team on social media will allow hotel brands to infuse everyday promotional efforts with the gravity of a property's heritage (see story).
The hotel brand's sister brand St. Regis recently leveraged the vast audiences tethered to popular bloggers.
The collection of hotels an resorts is leveraging the voices of four popular bloggers and enacting an Instagram campaign that runs until Nov. 20 to animate its Family Traditions initiative.
The Family Traditions Instagram campaign asks fans to submit a photograph illuminating a cherished family pastime for a chance to win a stay at a St. Regis hotel or resort. As ordinary fans are submitting their photos, the four chosen bloggers will be charting their trips with their families to various St. Regis properties (see story).
As the Luxury Collection and One Kings Lane ponder new partnerships in the future, even more extensions of the road trip, they both will greatly benefit from the intermingling of brand loyalists.
"The fact that so many items are already sold out just goes to show how popular these branded, unique experiences are among luxury consumers," Mr. Rains said.
Final take
Joe McCarthy, editorial assistant on Luxury Daily, New York