Italian apparel brand Prada premiered Wes Anderson's "Castello Cavalcanti" short film at the Rome Film Festival and on its Web site that grants supremacy to the director's style rather than overt branding.
The film features actors Jason Schwartzman and Giada Colagrande and is the latest project in the brand's "Prada Classics" series that promotes art, architecture and film. Partnering with films is a way for luxury brands to articulate their aesthetic in another medium and gain interest among cinema aficionados.
"Clearly, the brand is targeting film enthusiasts, particularly Wes Anderson fans," said John Casey, senior vice president of Havas Public Relations, New York.
"Branding a stylized film like this is a more subtle way for Prada to promote its brand," he said.
"It's a more entertaining way to engage with the brand, and less intrusive than developing a whole short film around one of the brand's new collections, for example."
Mr. Casey is not affiliated with Prada, but agreed to comment as an industry expert.
Prada was unable to comment by press deadline.
Foreign film
The film, which premiered Nov. 13, does not explicitly promote Prada. Besides the barely noticeable Prada name on the back of Mr. Schwartzman's jumpsuit, the brand is not mentioned.
Instead, the film takes inspiration from Prada's Italian heritage. When the seven-minute film opens, the viewer sees a quiet outdoor café at night in a town called Castello Cavalcanti. Women are knitting and men are playing cards.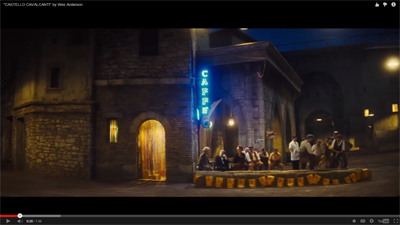 A still from "Castello Cavalcanti"
Then everyone's attention turns to a sudden auto race. A line of cars and motorcycles drive past, speeding off into the night. The cafe patrons cheer them on, waving flags.
One lone race car driver, played by Mr. Schwartzman, is heard cursing. Viewers see him lose control of his car and crash into a statue.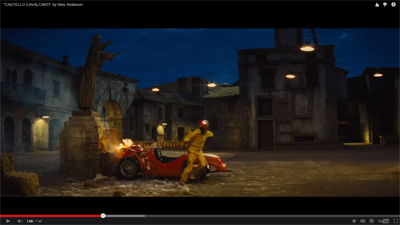 A still from Castello Cavalcanti
As his car sets on fire, he leaps out of it and runs to get water to stop the flames. As townspeople try to move the car out of the way, he blames his steering wheel that was "screwed on backwards" for the crash.
The actor then crosses to the café, where he sits down at a table of locals and orders a drink. The viewer then learns his name is Jed Cavalcanti. When he asks where he is, he learns the town name is the same as his surname and realizes he is related to the people he is sitting with, since this is the town from which his family came.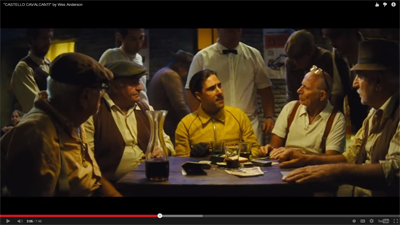 A still from "Castello Cavalcanti"
Prada put the film as the landing page of its Web site. The film is accompanied by more information about the project, including a photo gallery.
Prada's social media played a large part in the release of the film, with the brand' s Facebook page featuring a cover photo of a still from the movie. Leading up to the release, Prada posted a very short trailer to build up anticipation for the film.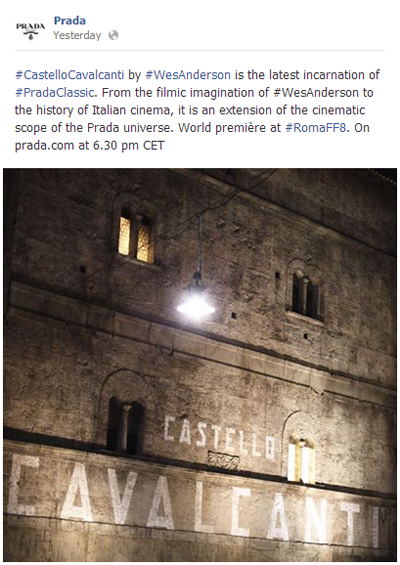 Movie magic
Other luxury brands have tied themselves to film projects to further their brand messages.
For instance, precision-cut crystal maker Swarovski is looking to drive ticket sales with social media promotions to its first feature film production, "Romeo & Juliet," developed by its entertainment division.
Released Oct. 11, Romeo & Juliet is Swarovski's first time working with Hollywood partners to develop, finance and produce a film shown in international theaters. While many brands participate behind-the-scenes in costume and set design, Swarovski is likely to build more brand awareness by using a dual approach that includes jewelry featured in Romeo & Juliet as well as its behind-the-scenes participation (see story).
Also, Italian fashion house Gucci is continuing its film restoration project with The Film Foundation and Warner Bros. Entertainment that showcases the brand's appreciation for and support of cinematic arts.
Facilitating the restoration of director Nicholas Ray's film "Rebel Without a Cause" allows the brand to show its enthusiasts a side not based in fashion. Artistic collaborations give brands a way to connect with and change the perceptions of consumers outside their niche (see story).
For Prada, this movie collaboration will likely draw the attention of both fashion and film fans, drawing consumers to its Web site and social media accounts.
"As an Italian designer, it makes sense for Prada to release the film at the Rome Film Festival and promote it on its Web site and social media accounts," Mr. Casey said.
"It's a clever way for the brand to have visibility at a high-profile film industry event via branding a short film by an iconic director," he said.
Final take
Sarah Jones, editorial assistant on Luxury Daily, New York