Swiss watchmaker Tag Heuer is continuing its nearly 30-year partnership with British automotive company McLaren with a new watch that celebrates the automaker's MP4-12C 2013 model.
Tag Heuer's Carrera MP4-12C wristwatch's design was inspired by McLaren's sports car of the same name and features elements found in the model. Automakers and watch manufacturers frequently partner due to the precision that guides the craft of both industry's products.
"The Tag Heuer McLaren collaboration has several ingredients for a successful partnership," said Maud Meister, strategist at Siegel+Gale, New York. "The two brands are targeting the same sliver of the affluent population who can afford luxurious status symbols.
"There is a clear, intuitive connection between high-end watches and fast race cars that doesn't require a ton of explanation," she said. "But there is also a subtler, authentic 28-year history between the companies, and Tag Heuer was one of the first companies to create chronographs used in auto racing.
"Most importantly, there is mutual benefit to the association. These luxury brands are aligning to tell a story about a very specific kind of elite, sporting lifestyle, which demands precision, engineering and quality. Tag Heuer benefits from association with the uber-elite McLaren halo."
Ms. Meister is not affiliated with Tag Heuer or McLaren, but agreed to comment as an industry expert.
Tag Heuer did not respond by press deadline.
Racing time
Since 1985, Tag Heuer has been a sponsor of McLaren's Formula One racing team by acting as its official timekeeper. The partnership has yielded six Constructors' World Championship titles and nine Drivers' World Championships and is one of the longest sponsorship agreements in Formula One history.
McLaren Automotive's MP4-12C was first debuted in 2011. To expand its role as official watch and chronology partner, Tag Heuer released the Carrera MP4-12C Chronograph to celebrate the 2013 model of the eponymous sportscar.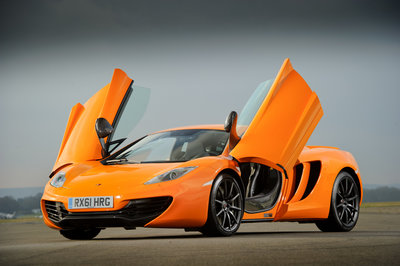 Tag Heuer drew inspiration from the automobile's color, materials and design. The Carrera MP4-12C includes a carbon-based dial modeled from McLaren's carbon fiber chassis.
The orange accent on the watch dial and strap stitching was chosen to reflect the MP4-12C's Papaya Orange color option. Other watch features include a sapphire crystal face that shows the mechanism movements, semi-perpetual calendar, a titanium case and titanium folding clasp and safety push buttons on its strap.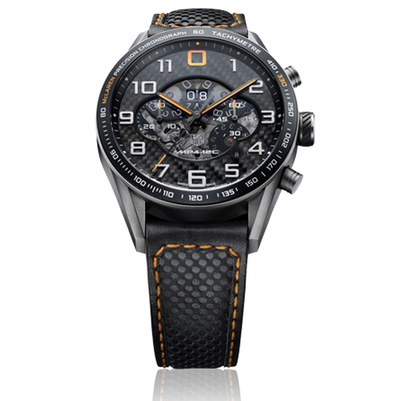 Tag Heuer's MP4-12C watch is available exclusively at McLaren's store and at its dealerships. The watch is limited to 1,000 pieces and can be bought for $14,613.
The watchmaker is promoting its latest collaborative timepiece with a post on its Facebook.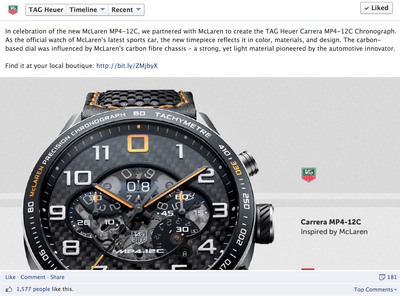 Tag Heuer Facebook post
Behind the wheel
The collaborative projects between automakers and watchmakers appeal to enthusiasts on both sides of the picture due to overlapping values.
For example, Switzerland's Chopard collaborated with made-to-measure Italian automaker Zagato for a two-watch series that will likely appeal to affluent male consumers interested in classic and bespoke cars.
The limited-edition collaboration, part of the jeweler's larger Classic Racing watch series, is another step in solidifying Chopard's relationship with the racing world. Chopard's Mille Miglia Zagato watch design embodies the shared values of the jeweler, the automaker and the iconic Mille Miglia race in Italy that brought them together (see story).
In addition, British automaker Bentley Motors elevated its partnership with Swiss watchmaker Breitling by touting soccer star David Beckham as the campaign's ambassador.
The Breitling for Bentley collection features numerous automotive-inspired watches that will likely attract automotive fans. Mr. Beckham already acts as Breitling's global brand ambassador so extending his presence to Bentley signals the strong rapport between the two brands (see story).
Collaborations across industries can increase awareness among consumers outside the bracket of typical enthusiasts.
"The opportunity to buy a McLaren-branded watch allows audiences to experience the McLaren brand without actually buying a car," Ms. Meister said.
"McLaren will most likely enjoys increased awareness and consideration amongst Tag Heuer's broader customer base," she said.
"Creating limited-edition products is a favorite tool to generate buzz and cut through the competitive clutter, which is intense amongst luxury brands battling for the same customers in a difficult economic climate."
Final Take
Jen King, editorial assistant on Luxury Daily, New York