Peninsula Hotel Hong Kong celebrated its 85th anniversary Dec. 11 with a gala evening that featured work from Hong Kong artist Lee Chi Ching.
The celebration was imbued with additional significance because the property completed a $58 million room enhancement project earlier in the year. Anniversary celebrations not only impart a sense of credibility, but also provide hotels with a jumping-off point for numerous campaigns.
"The Peninsula Hong Kong has just proudly completed our landmark room enhancement program in 2013," said Winvy Lung, director of public relations at The Peninsula Hong Kong, Hong Kong.
"We look forward to introducing the world's most personalized guestrooms to a wider audience and to continue to upgrade and refine our facilities and services for our discerning guests."
Different stages
During the gala, Mr. Ching's animation was projected on the façade of the building for guests to see. Peninsula Hotel Hong Kong released a video displaying the light show and a throng of people peering up.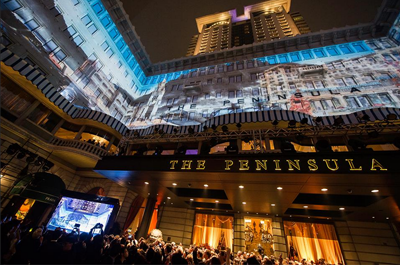 Peninsula Hotel Hong Kong 85th celebration
In the video the façade charts Hong Kong's societal transformations since 1928. The animation begins with a rural scene that gradually gives way to sophisticated technologies. Eventually, the animation depicts a modern scene with the Peninsula Hong Kong at the forefront.
85th anniversary animation
Throughout the year, Peninsula Hotel Hong Kong took many steps to both ensure its relevance and to honor its roots.
Most importantly, the brand upgraded all of its rooms in a massive overhaul to include technological innovations such as digital touch pads.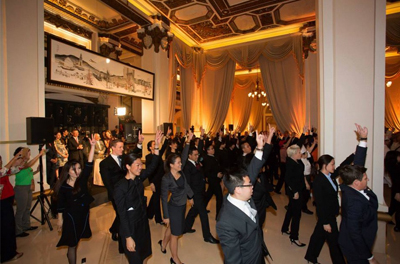 Peninsula Hong Kong Staff at 85th anniversary
Culinary programs were rejuvenated throughout the year to include an eight-course meal celebrating the restaurant's Diamond Jubilee, afternoon tea dances on the first Sunday of the month, food tours on the third Sunday of the month and the fourth Sunday of the month became the site for artistic performances.
Philanthropy efforts were also stepped up throughout the year, which culminated Dec. 11 in a check presentation ceremony.
A film by Elaine Forsgate Marden released this year portrayed the hotel's earliest days in Hong Kong.
Remarkably, the original celebration gala took place on Dec. 11 as well.
Birthday party
Peninsula Hotel Hong Kong is not the only luxury hotel brand that has celebrated its 85th anniversary this year.
Leading Hotels of the World celebrated its 85th anniversary with an Instagram competition that invited fans to share photographs of memorable birthday cakes.
The length of the #ShareYourCake contest ensured that an ample amount of submissions arrived, from which three winners were awarded $500 gift certificates redeemable at LHW hotels. Although it may seem odd to celebrate an 85th anniversary, promotions throughout the year have increased the brand's Facebook likes by around 80 percent since 2012 and Twitter followers have increased by around 40 percent (see story).
Other hotel brands have also celebrated significant dates recently.
For instance, Four Seasons Toronto initiated a month-long birthday campaign with a social media contest that asks fans and followers to post celebratory images for a chance to win a Toronto and New York trip for two.
The #FSCelebrate campaign commemorates the reopening of the property last October and will involve a host of events for guests throughout this month. Although many of Four Seasons' social media contests involve numerous areas and properties, they are generally triggered by an individual hotel's gumption (see story).
Peninsula Hong Kong tried to capture the sentiments and atmosphere of the property's original celebration.
"Exactly 85 years to the day of her 1928 launch, The Peninsula Hong Kong celebrated another milestone in convivial style with an evening of splendid entertainment and refined joie de vivre," Ms. Lung said.
"And, despite her advancing years, Hong Kong's Grande Dame had never looked better as she welcomed the great and the good of Hong Kong and beyond for a gala celebration that will live long in the memory of all who attended."
Final Take
Joe McCarthy, editorial assistant on Luxury Daily, New York