NEW YORK - A senior executive at Italian linens maker Pratesi said at Luxury FirstLook: Strategy 2014 that the brand's entrepreneurial and generational position resembles the state of French leather goods maker Hermès before it rose to global prominence.
Joined by the current President of Pratesi, Frederico Pratesi, Rebecca Miller expounded upon the brand's methodical expansion. Understanding that moving the brand into new product categories and away from its highly localized roots entails change, those spearheading the efforts want to preserve as much of the DNA as possible.
"We had to take and convert assumptions and emotions to hard business processes," said Rebecca Miller, executive vice president at Pratesi Linens, New York. "We're moving from entrepreneurial mode to something far more robust.
"Pratesi is home," she said. "It seems fairly simplistic, but lets step back for a minute. The difference is we started in the home, we are the home, as we begin to grow out from there, there's a sense of authenticity. We didn't get into [the home], we were already in it."
Singular to plural
Pratesi has stayed within the grasp of a single family for five generations. Ms. Miller said that when formulating the brand's emergence as a more powerful force in luxury, she looked to Hermes' model.
The French brand has a similar family-centric, entrepreneurial background and its impetus to expand also arrived when ownership transitioned to a new generation. When Robert Dumas-Hermès took the brand over, he introduced original handbags, jewelry and accessories.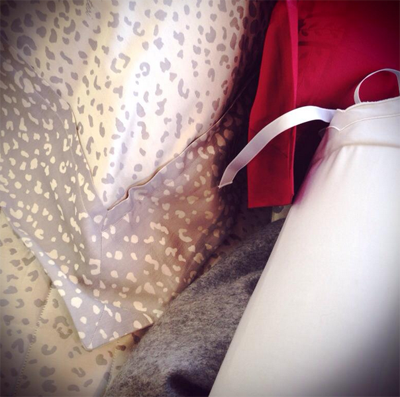 Pratesi Linens
Under the leadership of Mr. Pratesi, the brand will soon be venturing beyond linens to become a holistic home brand, a move that feels more organic than, for example, an automaker picking up home design.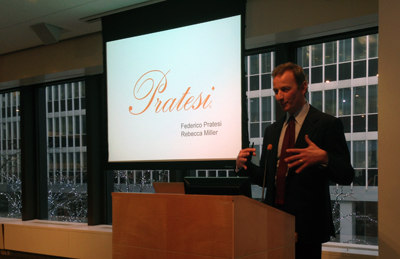 Mr. Pratesi at Luxury FirstLook: Strategy 2014
Ms. Miller explained that the brand has approached the expansion methodically and referred to former positions she held where such patience paid off. At earlier posts, she advised her team members to learn as much as possible about the cultures they work in, the histories of the products they have and the cultural interests of their target consumers.
In doing so, the company transitioned as a whole, without leaving members at the ground-level unaware of what just happened.
As a testament to the brand's desire to get everything right, Ms. Miller said that the team had scrapped the initial redesigned Web site in favor of something more reflective of the brand. Currently the brand does not have a primary Web site.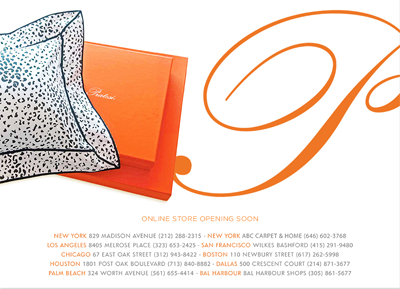 Pratesi Web site coming soon
Merit-based
Some big-name brands are trying to establish themselves in the home furnishings market.
For instance, Italian apparel and accessories brand Versace sought to boost awareness for its home collection through an email campaign sent as affluent consumers begin to anticipate their holiday guests.
Although sent right before the Christmas holidays, the email emphasizes that Versace interiors can be purchases for everyday life, not just for the rare occasions. That said, Versace's email drop was timely, but may have gone unopened due to the amount of shipping confirmations and other brand emails received during the holiday season (see story).
Also, Italian fashion house Fendi generated interest in its home furnishing collection through a revamped Web site that features large images, video content and easy browsing capabilities.
Through the new Casa site, consumers can watch a video overview, view a catalog of products, see interior design images and locate a showroom. Brands should regularly revamp and update their Web presence to keep consumers interested and visiting the site (see story).
However, a brand that has spent more than a century in the business may have an easier time gaining traction.
"We don't want any shortcuts in the factory, we make our trademark in the same way my father, my great grandfather used to do," Mr. Pratesi said.
"Pratesi in your home is like a second skin, and we can develop the concept widely," he said.
Final take
Joe McCarthy, editorial assistant on Luxury Daily, New York