Global watchmakers convened in Geneva Jan. 20-24 for the annual trade- and invite-only Salon International de la Haute Horlogerie to unveil new and innovative timepieces and explore their shared passion of fine watches.
Although only sixteen watchmakers participated in the official SIHH event, the Swiss city of Geneva became a gathering place for international watchmakers looking to tout new technologies and celebrate horlogerie. Whether a brand was participating at SIHH or hosting a private event elsewhere in the city, watchmakers relied heavily on social media to include enthusiasts to an event that otherwise would have been unseen by the public.
"There are two benefits of being showcased at SIHH," said Al Ries, founder and chairman of Ries & Ries, a Roswell, GA-based marketing strategy consultancy. "One is the possibility of finding new distribution outlets for the brands and the other is the possible media attention achieved for the brands.
"It's probably the best place in the world to interest the media in a new watch," he said.
"Editors and reporters like to attend events like SIHH because they can quickly canvas the entire watch industry to find new product developments they can write about. SIHH benefits both the media and the watch industry."
Around the clock
Watchmakers that were featured at the 2014 installation of SIHH included A. Lange & Söhne, Audemars Piguet, Baume & Mercier, Cartier, Greubel Forsey, IWC Schaffhausen, Jaeger-LeCoultre, Montblanc, Panerai, Parmigiani Fleurier, Piaget, Ralph Lauren, Richard Mille, Roger Dubuis, Van Cleef & Arpels and Vacheron Constantin.
During SIHH these brands shared new works, often the results of years of research, to a crowd of watchmaking professionals. Although the convention is an invite-only industry event, brands looked to social media to share innovations with consumers, giving a sneak peek of what's to come.
Switzerland's Vacheron Constantin, for example, unveiled four of its new designs through daily posts on its Facebook account. Doing so increased anticipation among watch lovers and also created a conversation between brand and consumer that otherwise would not have occurred.
Vacheron's new timepieces, such as the Malte Tourbillon Openwork and the Les Metiers d'Art Mecaniques Ajourees, each show off the manufacturer's expertise with exposed mechanisms. Vacheron also unveiled a series of watches inspired by the decorative arts of several cultures.
The four-piece Les Metiers d'Art Fabuleux Ornements collection, crafted by ten different artisans, pays homage to Ottoman architecture, Chinese embroidery, Indian manuscripts and French lacework. Vacheron accompanied its new timepiece posts with attractive imagery and a brief description as another way to increase anticipation.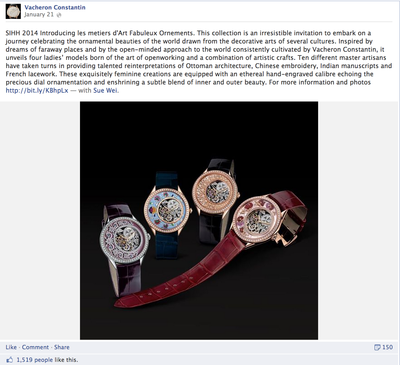 Vacheron Constantin Facebook post
Jaeger-LeCoultre unveiled 12 new timepieces, part of the watchmakers Hybris Artistica collection, to attendees at SIHH, but relied on social video shared via Facebook to reach its global audience. For many of its posts during SIHH, Jaeger-LeCoultre posted video content to further display its dedication to craftsmanship.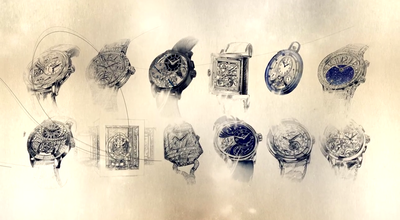 Fans of Jaeger-LeCoultre who were interested in a debriefing on the Hybris Artistica collection were able to watch a 3-minute video exploring the skill set behind the brand's designs showcased at SIHH.
Hybris Artistica Collection - The Ultimate Creativity
Watchmakers who did not present at SIHH still had an opportunity to be present among the world's leading horologists. Brands such as Hublot and Breguet held their own branded events that coincided with the SIHH period.
Swiss watch brand Hublot organized an exhibit, "Hublot Geneva Days" at the Kempiski Hotel where the watchmaker presented timepieces from its 2013 collection. Hublot then relied on its blog to reveal new timepieces such as its women's Big Bang Pop Art watch and revisit existing designs in its portfolio for each day of SIHH.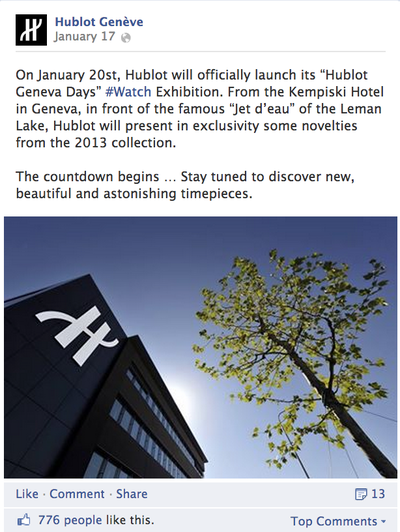 Hublot Geneva Days Facebook post
In addition, Breguet staged an exclusive, interactive exhibit during the SIHH period lasting through Feb. 23. Extending the exhibit beyond the SIHH period will help Breguet remain top-of-mind as other watchmakers pack up.
Publicized on its Facebook, Breguet's exhibit is being held in Geneva's Cité du Temps. The exhibit features eight of Breguet's inventions in a "high-tech" setting composed of experimental showcases designed to awaken the sense and spark curiosity, according to the watchmaker.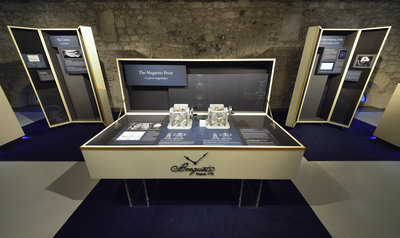 Industry exclusive
Even though watch consumers are unable to attend many of the international horology events, social media allows enthusiasts to feel involved.
For example, Swiss watchmaker Vacheron Constantin joined 12 other watchmakers in Hong Kong for the first Watches & Wonders – First Asia Haute Horlogerie Exhibition where brands displayed their timepieces and craftsmanship.
Watches & Wonders Sept. 25-28 at the Hong Kong Convention and Exhibition Centre is an exclusive event that showcases the culture and heritage of watchmaking to the Asian market (see story).
The popularity of such industry events reflects market research showing that interest in horology is growing.
Research shows that Swiss watchmaker Patek Philippe is at the forefront of brands in the haute horlogerie category, according to a preview of the Digital Luxury Group's tenth annual World Watch Report 2014.
The World Watch Report's Haute Horlogerie preview was released to coincide with the Salon International de la Haute Horlogerie held in Geneva as the world's premier watchmakers jockey for attention from international watch collectors. Releasing figures pertaining to watch manufacturers at the event may drive interest among horologists, while helping watchmakers pinpoint emerging and recovering markets (see story).
Even though SIHH is industry-only event the possibility of spreading brand awareness is still possible through media and branded coverage.
"It doesn't directly build brand awareness, but it often leads to publicity that does," Mr. Ries said.
"As advertising becomes increasingly more expensive, and less effective, many luxury-goods manufacturers are spending more money on public relations," he said. "And a trade show that attracts media attention is a very good platform for generating PR."
Final Take
Jen King, editorial assistant on Luxury Daily, New York