The Ritz-Carlton is expanding its efforts to help students around the world to pursue a fulfilling education by making its "Succeed Through Service" toolkit available to all.
Since the Succeed Through Service project launched with America's Promise Alliance in 2009, the brand has helped more than 15,000 students. The persistence of children stifled in the United States educational system calls for influential companies to assist where they can.
"The reason we are making the Succeed Through Service Toolkit available on an open-source, non-proprietary basis is to expand the number of young students who can benefit from the program and inspire others to get involved in helping them flourish," said Sue Stephenson, vice president of Community Footprints forThe Ritz-Carlton Hotel Company, Chevy Chase, MD.
"Through Succeed Through Service, Ritz-Carlton employees mentor students in low income communities to follow their passions, imagine futures not previously envisioned, understand the value of giving back to their community, and learn valuable life skills that will help them forge a path of success.
The America's Promise Alliance is a network of national and local businesses and organizations that work together to help improve the lives of children.
Doing its share
Ritz-Carlton locations across the U.S. have donated space and resources to support America's Promise and to help bring together influential leaders in the business, nonprofit and philanthropy industries. These meetings have played a part of a larger goal to support the America's Promise Grad Nation Program by increasing awareness and gaining local support (see story).
More than 400 national partners and their local affiliates have been mobilized to participate in the project, according to the brand.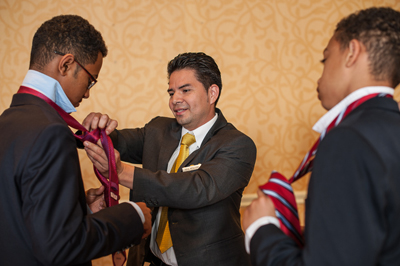 Succeed Through Service
Succeed Through Service was recognized as the "Most Robust and Comprehensive National Youth Mentoring Program" at the 2014 National Mentoring Summit.
A curriculum for the program provides volunteers with ways to introduce students to career options, life skills, and civic responsibility.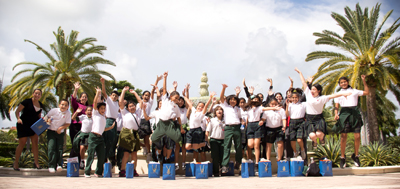 Succeed Through Service students
Ms. Stephenson said that all of the brand's properties around the world have linked up with local middle schools. Some programs stay with a single class for multiple years, while other divide their time between multiple classes.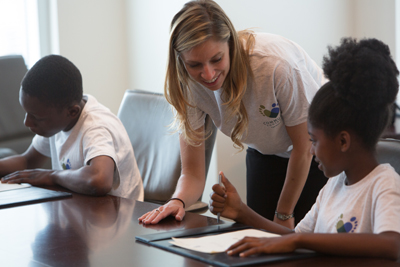 Succeed Through Service
Programs generally begin by inviting a class of students to the partnering Ritz-Carlton property. Employees line up to applaud the students and introduce them to the hospitality industry.
Employees then travel to their partnering school to teach the curriculum and engage with students.
The open-source toolkit will likely help mentors devise frameworks for empowering young people, and ultimately motivate them to pursue higher education.
The Ritz-Carlton corporate office team visits Cardozo Middle School in Washington each week to be literacy coaches and to deliver the Succeed Through Service modules, according to Ms. Stephenson.
Lesson guides in the toolkit are available on the following subjects: career exploration, social skills and etiquette such as eye-contact, a great smile and a firm handshake, successful presentation skills, the power of teamwork, application and interview skills, safe food handling skills and healthy eating.
Succeed Through Service
Ms. Stephenson hopes that other companies and nonprofits will be able to use the toolkit independently or team up with the brand.
Help that lasts
The Ritz-Carlton generally engages in long-term philanthropy projects that can be easily updated for short periods.
For instance, the hotel chain donated up to $100,000 to the Make-A-Wish Foundation Dec. 9-20 through a gift card initiative stemming from its Community Footprints canopy program.
The hotel chain will donate 10 percent of the value of every Community Footprints card sold in the United States, Caribbean and online. Tying this campaign into its overarching philanthropy drive will remind consumers that the Ritz-Carlton is dedicated to various causes throughout the year, not just during the holidays (see story).
For brands that have a global presence, investing in the local community appeals to consumers looking for authenticity.
"Each of our hotels, clubs and residences work with a middle school in a disadvantaged community with our employees teaching career and life skills to students," Ms. Stephenson said.
Final Take
Joe McCarthy, editorial assistant on Luxury Daily, New York