British Automaker Land Rover is celebrating the 25th anniversary of its Discovery model with an adventure challenge March 2 that pits seasoned and upcoming explorers against the elements.
The "Next Generation Explorer in the Discovery Adventure Challenge" will test contender's mental and physical endurance and skill over a 24 hour period as they traverse various challenges. Perhaps more so than any other automotive brand, Land Rover has a clear and instantly recognizable purpose outside of car manufacturing that helps to cultivate brand loyalty.
"Some of the U.K.'s top event experts pulled together the concepts for the challenges, which are devised to blend automotive ability with genuine exploration skills," said Lydia Haley, senior press officer at Jaguar Land Rover, Coventry, Britain.
"The event will test physical stamina, survival abilities and agility," she said.
Man's limits
The explorers, and brand ambassadors, tapped for the competition include Sir Ranulph Fiennes, Hannah White, Kenton Cool and Eric Loizeau. They will be paired up with rising adventurers ranging in age from 18 to 22 from the British Exploring Society.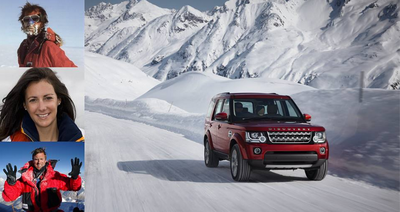 Next Generation Explorer in the Discovery Adventure Challenge
These young explorers include Hannah Wright, Cameron Mackay, Alex Woodford and Tim Davies and will rotate among the ambassadors to compete for the title of "Next Generation Explore."
Ben Saunders and Tarka L'Herpiniere, who just competed the Scott Expedition, will introduce the rivals.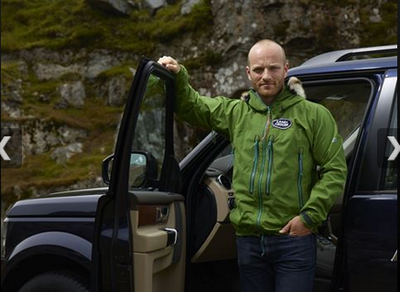 British explorer Ben Saunders with Land Rover
In the first challenge contenders will race side-by-side through a slalom course in two Land Rover Discovery XXVs. Two heats and one final match will determine the winner.
The next challenge calls for one team member to drive a Discovery XXV around a course, while the other shoots a laser gun at a variety of targets.
Next, teams will have to pull one of Saunder's sleds in a snow abyss. The first contestant to create a fire from scratch and burrow a hole to sleep in will be awarded the most points.
The grand finale is a boat race across Lake Geneva.
Several areas of expertise are challenged to flatten advantages and expose weaknesses.
Global ambassadors will cast votes at the end of the competition to determine the winner. The victor will be announced March 3.
Brand appropriate
Land Rover always seems to be engaged in some envelope-pushing endeavor.
Jaguar Land Rover invited fans to follow global brand ambassador Mr. Saunders as he embarked Oct. 4 on an 1,800-mile, four-month expedition from the coast of Antarctica to the South Pole on foot.
Investments in ambassadors can yield high returns when they engage in enterprises that reinforce core brand values (see story).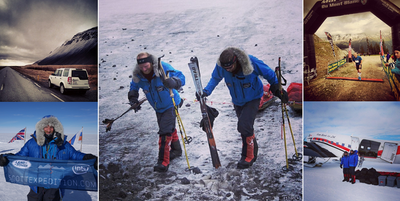 Scott Expedition images
Following the completion of The Scott Expedition, Land Rover continues to demonstrate its ability to find brand-appropriate ambassadors.
British explorers Mr. Saunders and Mr. L'Herpiniere trekked 1,795 miles over 105 days in Antarctica to achieve the longest man-haul polar expedition in history. Unlike many brand ambassadors, Mr. Saunders has truly embodied the values that Land Rover has tried to exude since his invitation in 2008 (see story).
"The event is being staged to mark 25 years of Discovery, a vehicle synonymous with capability and versatility as well as adventure," Ms. Haley said. "Hence, the Discovery Adventure Challenge is a fitting tribute."
Final Take
Joe McCarthy, editorial assistant on Luxury Daily, New York