Luxury conglomerate Kering will speak at the third Copenhagen Fashion Summit on sustainability to highlight its work.
Since the first Copenhagen Fashion Summit in 2009, Kering has been a keynote speaker at the biennial event. Kering is able to position itself as a leader in sustainability practices among luxury brands and companies through this participation.
"Kering made its strategy clear at the time of its renaming," said Jordan Phillips, New York-based author of "The Lure of Luxe." "It wants to be known as a company that cares.
"François-Henri Pinault understands that transparency is the future, and good business practices will be imperative to survival, especially in the realm of luxury," she said. "He set up a division to oversee ecological and social initiatives years ago, and Kering has been getting the word out about its strategy ever since.
"In the short term, this strategy will not boost the bottom line. Instead, it will help build the company into a stable of brands that consumers can feel good about, which will boost the bottom line in long run."
Ms. Phillips is not affiliated with Kering but agreed to comment as an industry expert.
Kering was unable to comment directly.
Sharing on sustainability
The first Fashion Summit was held in 2009 as part of the United Nations Climate Change Conference, COP15. Kering, called PPR at the time, spoke along with other brands including department store chain Barneys New York and fast-fashion store H&M.
In 2012, PPR special advisor to the chief sustainability officer Holly Dublin gave a speech titled "Empowering Imagination—PPR's Sustainability Strategy." Gucci, a PPR brand, also presented a keynote about sustainable luxury.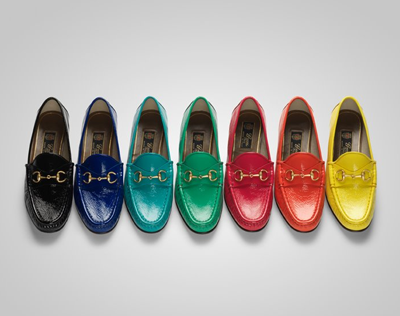 Gucci loafers
The conference in 2012 gathered an audience of more than 1,200, consisting of fashion industry leaders, politicians and non-governmental organizations who traveled from 27 countries. Expanding the audience for the event, cable news network CNN broadcasted 12 minutes of the conference.
For this year's conference on April 24, Kering chief sustainability officer Marie-Claire Daveu will speak during the portion of the one-day event titled "Strategizing and Design Integration." The event will also include a keynote by a luxury brand representative, whose name will be announced at a later date.
Other speakers at the upcoming event are Her Royal Highness Crown Princess Mary of Denmark, Helena Helmersson of H&M, Livia Firth, Vanessa Friedman formerly of the Financial Times, Jason Kibbey of the Sustainable Apparel Coalition and Danish Fashion Institute CEO Eva Kruse. German automaker Mercedes-Benz is one of the sponsors.
Kering is very vocal about its sustainability initiatives. On the group's Web site, one of the main options on the homepage is "Sustainability," listed along with a link to the brands and finance information.
On the sustainability page, consumers can read Kering's commitment, which includes the statement, "We are propelling our brands to lead with new business models that contribute to a better world economically, socially and environmentally."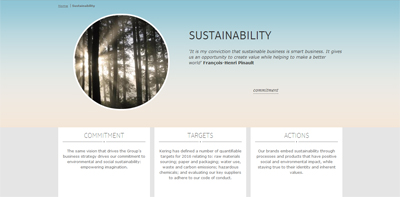 Kering sustainability Web page
Part of the commitment are goals the company has for 2016, including becoming completely PVC-free, getting all of its diamonds from verified sources and procuring its paper for packaging from recycled materials and sustainably managed forests. Kering will measure and analyze its environmental impact in 2016 and put a monetary value on it.
There are also news stories about specific initiatives the group's brands are doing. Gucci switched out the plastic in its eyewear production to liquid wood, and Saint Laurent Paris began using LED lights in its stores in 2012 to reduce its energy consumption.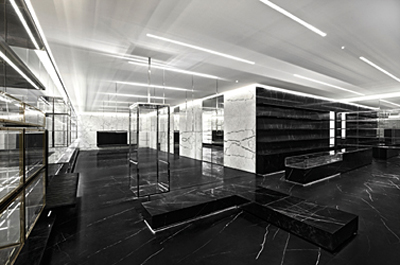 Interior of a Saint Laurent Paris store
Kering looks to this summit as both a place to share its own findings and the solutions to sustainability challenges that its brands have discovered, as well as a forum to learn about other companies' strategies. The group considers sustainability a differentiator that gives a competitive advantage.
Luxury companies Richemont and Moët Hennessy Louis Vuitton have their own sustainability pledges, which they are not as vocal about. LVMH joined the United Nations' Global Impact in 2003, and Richemont set up measurable targets for 2018.
Championing a cause
Eco-initiatives that have meaning for a fashion brand ring more true.
French fashion house Kenzo partnered with Britain-based conservation group Blue Marine Foundation to help protect the oceans through fashion.
Kenzo launched a Blue takeover of both its London flagship store and its Web site, as well as a capsule collection to benefit the organization designed by the label's creative directors Carol Lim and Humberto Leon. As consumers are more and more interested in ecological causes, seeing a fashion brand take initiative on an issue will have a positive impact (see story).
Today there is more attention being paid to the environmental practices of luxury brands.
For instance, international environmental organization Greenpeace is putting pressure on eight luxury fashion brands to revise their production processes after finding toxic chemicals in their apparel and accessories.
Greenpeace studied 27 children's clothing and footwear items from luxury brands, finding that 16 of those contained one or more hazardous chemicals. With luxury consumers aware of the environmental impact of their clothing purchases, many luxury fashion houses may reform their practices to stay in good public opinion (see story).
Luxury brands have the opportunity to effect change through their sustainability initiatives because of their position.
"Nearly everything that luxury brands do is copied by mass market brands, so transparency and sustainability initiatives must come from the top of the fashion chain," Ms. Phillips said.
"Some of that goodness will eventually trickle down," she said. "It is important for all companies to strive to be more sustainable, because our current system is harmful to people and to the environment."
Final Take
Sarah Jones, editorial assistant on Luxury Daily, New York