Peninsula Signature Events, a division of Peninsula Hotels, will host an automobile event at the Quail Lodge & Golf Club in Carmel Valley, CA, to reach auto enthusiasts.
The Quail, A Motorsport Gathering, will take place Aug. 15, and bring together auto aficionados to view rare luxury vehicles and celebrate Maserati's 100th anniversary. Through this event, Peninsula Hotels will likely benefit from providing an exclusive experience to guests at this event, which will put the hotel chain on their mind as they are making travel plans.
"Over the past 100 years, Maserati has produced some of the world's most immaculate and alluring vehicles, and this manufacturer has played a decisive role in auto history," said Gordon McCall, director of Motorsports at Peninsula Signature Events, Carmel Valley, CA.
"This year, we aimed to celebrate the prolific brand's milestone at The Quail, A Motorsports Gathering," he said. "We have the unique opportunity to provide our guests with these once-in-a-lifetime experiences surrounding the cars they so devotedly admire."
Driving interest
Peninsula Hotels has managed The Quail Lodge since 1997.
This event will be held from 10 a.m. to 4 p.m. in a garden party atmosphere where guests can taste cuisine from culinary pavilions.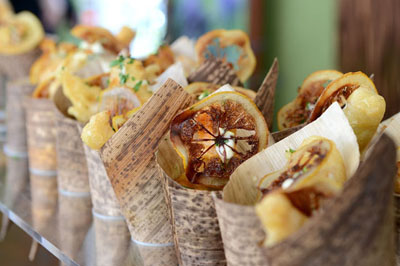 Food at A Motorsport Gathering 2013
A Motorsport Gathering brings together luxury automaker sponsors who provide cars for display and test-drive. Consumers can take luxury cars for a spin on the country roads surrounding the golf course.
Sponsors in 2013 included Bentley, Porsche, BMW, Rolls-Royce, Jaguar, Land Rover, Lamborghini, Mercedes-Benz, Ferrari, Bugatti and Audi.
Land Rover also gives guests a hands-on experience with its Land Rover Experience Driving School off-road course.
Confirmed sponsors for this year's event are Rolex and auction house Bonhams.
Held in conjunction will be the 17th Annual Bonhams Motorcar Auction. In 2013, vehicles totaling $32.7 million were auctioned to attendees.
Tickets include parking, a collectible poster and magazine, gourmet lunch, wine and cocktails. Due to demand, tickets are not available for purchase, but will be given out via an online lottery system.
Consumers interested in getting tickets need to subscribe to emails from The Quail Lodge events to receive instructions on entering the lottery.
"We have enjoyed overwhelming success in the past and the interest in this event has grown exponentially," Mr. McCall said. "There are so many different elements that make the annual The Quail, A Motorsports Gathering unique each year.
"The event showcases some of the finest and rarest automobiles in the world, such as last year's James Glickenhaus' 2006 Ferrari P 4/5 by Pininfarina and 2009 Ferrari P 4/5 Competizione, which were shown side-by-side for the first time in history," he said. "It's these kinds of experiences that our guests have come to expect, hence the success and demand for tickets.
"In order to accommodate as many guests as we can, we offer tickets through a lottery system, to try and expand the pool of people who can purchase tickets each year."
Pairing up
Peninsula Hotels is focused on providing its guests with unique experiences, often partnering with brands to bring exclusive events to consumers.
The Peninsula Hotels' United States properties in Beverly Hills, CA, Chicago and New York offered a Chinese New Year package for the month of February that provides guests with a taste of Chinese culture and touts the hotel chain's services.
Guests who selected the Chinese New Year package from Jan. 30 through Feb. 28 received an array of perks that appealed to the affinities of affluent guests regardless of nationality as well as an exclusive experience at French jeweler Van Cleef & Arpels' local boutiques. The Peninsulapaid particular attention to the comfort of its Chinese guests staying for the holiday by offering culinary and entertainment amenities (see story).
Also, U.S. label Oscar de la Renta teamed up with the Peninsula Hotels to provide guests at all of the chain's global properties with an original bathroom amenities collection and unisex fragrance.
The partnership marked the first time that Oscar de la Renta has created a fragrance for another brand. Hotel and fashion brand partnerships such as this allow for a level of mutual benefit unmatched by other partnerships because current Peninsula guests may become consumers of Oscar de la Renta, while the fashion brand's enthusiasts may be inclined to visit the hotel (see story).
Through this particular partnership with luxury automakers, Peninsula is able to give access to sought-after vehicles.
"The Peninsula Signature Events team has a penchant for luxurious, rare experiences, such as The Quail, A Motorsports Gathering," Mr. McCall said. "The event continues to elevate our cachet each year and to draw in guests that have an appreciation for fine automobiles and the Peninsula brand."
Final Take
Sarah Jones, editorial assistant on Luxury Daily, New York