Swiss watchmaker Hublot enlisted local support to build a playground for children in the favela Jacarezhino in Rio de Janeiro.
The watchmaker has invested substantial resources into the FIFA World Cup to become the Official Timekeeper, a position that affords visibility during every game of the globally-watched tournament. To improve its image among Brazilian consumers, Hublot worked with a local community to turn a derelict lot into a playground.
Renovated space
The brand recognized that it was in its best interest to aid the Brazilian community to some degree during the World Cup. Hublot collaborated with the Secretary of Human Rights to find a good location for its project to create a playground. A community space next to a school in Jacarezhino was chosen.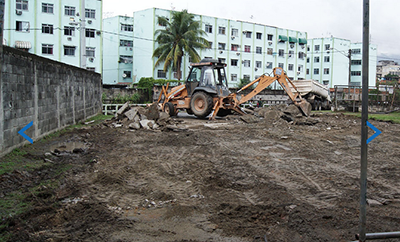 Original community space
Sao Paolo-based architecture firm FGMF & Rosenbaum helped Hublot conceive the project. Together with the local soccer team, children, families and coaches, the team embarked on the project.
The Department of Social Affairs first cleared the lot and then Hublot's team built a concrete surface. Children pitched in on weekends to paint the walls and help with the construction.
Brazilian soccer legend and Hublot ambassador, Pelé also helped out.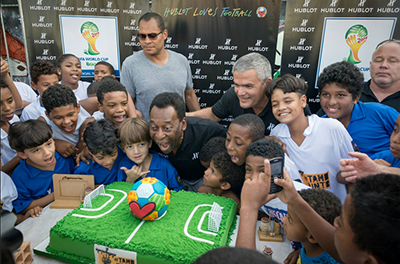 Pelé at the playground
Brazilian artist Romero Britto painted a mural with the help of local children. Ideally, the newly built playground will be a place for children to gather and play soccer.
Hublot celebrated the space with the community June 27.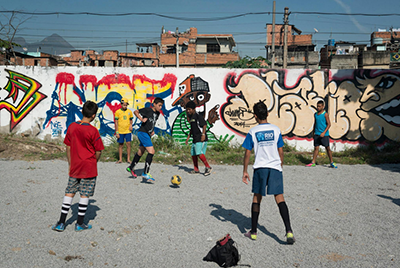 Hublot sponsored playground
Prior to the tournament, Hublot's global tour had taken the watchmaker from country-to-country where it has been awarding local head coaches with timepieces, hosting events and debuting its "Official Watch" of the international soccer matches (see story).
Hublot rounded out its international football campaign with a microsite that houses branded content and live updates from the World Cup through July 16. The microsite allows Hublot enthusiasts to enjoy the games with the brand and finds ways to include consumers who may have not had a Hublot Loves Football event in their region (see story).