Trump SoHo New York is improving the family experience with its Young Entrepreneur SoHo program that aims to foster business-oriented behavior.
The YES program provides kids with a number of signifiers such as business cards and activities that may foster a sense of being business-savvy. Although not many children around the age of 10 are ready to start a business, some parents may want to instill an early sense of direction.
"The program is approaching its first anniversary, and has been very well received," said Nicole Murano, director of marketing at Trump SoHo, New York. "We currently have nearly 200 members, and each event has been well attended.
"We are pleased to see the involvement of both hotel guests and residents of the local neighborhood at the events, as we believe strongly in both working with our local community and providing family travelers with fun and educational experiences to further enrich their stay," she said.
"Another testament to success of this young program was the news that Trump SoHo was just nominated for the prestigious 'Best of the Best' award from Virtuoso, in the Best Family Program category for the YES program. Virtuoso's network consists of more than 1,025 hotels, resorts, villas and private island retreats in 100 countries."
Making the most
The YES program is part of the collection-wide Trump Kids program that aims to provide children and teens with a more engaging experience.
Trump SoHo's entrepreneur program is open to guests, condo owners and residents of the neighborhood aged 3 to 17. Consequently, the hotel tries to embed the program firmly into the community.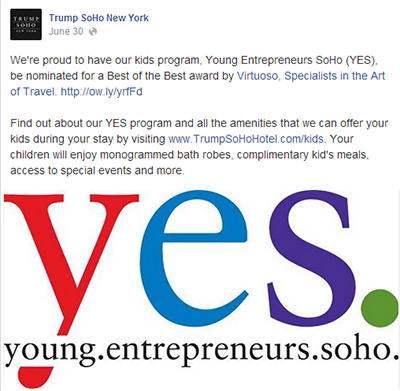 Trump SoHo Facebook post for the YES program
Members receive personalized business cards to initiate their introduction.
Guests of the hotel will receive a monogrammed child-size robe for their first stay and customized amenities for all future stays.
The point of the program, however, is that it extends beyond the hotel and integrates kids into the larger community.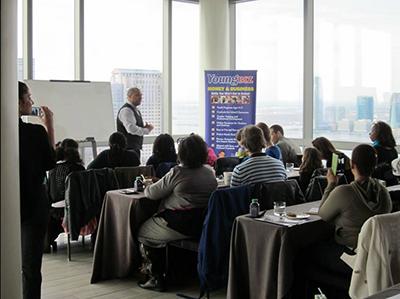 Trump SoHo event with YoungBiz USA
Members receive regular updates about neighborhood events through a quarterly e-newsletter and through specific, age-appropriate invitations.
"Past events included a kid's spa day, cooking class, holiday craft event and a 'Be Your Own Boss' business class with the organization YoungBiz USA," Ms. Murano said.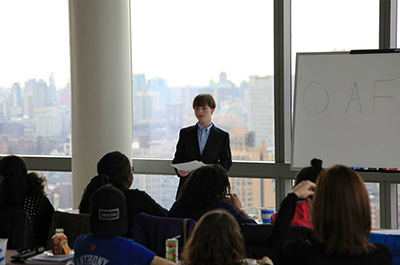 YES member presenting at YoungBiz USA event
As kids meet other kids with similar interests and attend events that encourage inventiveness and persistence, it could encourage actual entrepreneurial endeavors.
Of course, Trump SoHo's chief goal is to engage guests in ways that foster brand loyalty.
For first time or future visits, families can choose from two family-centric packages: the NYC Family Getaway and the Family Suite Savings offer. More info can be found here.
For the kids
Hotel brands regularly enhance amenities for children to create an inviting environment for families, a core audience.
For example, Langham Place Fifth Avenue partnered with art education group Little Collector to give children the opportunity to learn about and create art.
The partnership taps into the vibrant contemporary art scene of New York as families tour galleries, museums and art fairs. Since museums and art are already factored into many affluent families' New York itineraries, providing a catalyst for kids to invent will likely resonate (see story).
Retailers also try to appeal to the sentiments of children to both secure better relationships with their affluent parents and to invest in future consumers.
For instance, British retailer Harrods waved its magic wand to attract a new generation of young consumers to its London department store with the introduction of its "Bibbidi Bobbidi Boutique" inspired by Disney's "Cinderella."
The retailer partnered with Disney to bring to life the fairy tales enshrined in popular imagination. The Boutique was recommended for children ages 3 to 12 and worked to Harrods' advantage as the connection created with participating children likely left a lasting impression (see story).
For Trump SoHo, kids programming is just one part of a holistic marketing strategy.
"Trump SoHo is always looking to enhance the luxury hotel experience, so we are excited to watch the YES program evolve over time," Ms. Murano said.
"Keeping the kids and teens happy in turn makes the parents happy," she said.
Final Take
Joe McCarthy, editorial assistant on Luxury Daily, New York