Fairmont Hotels and Resorts is joining up with apparel brand Tommy Bahama, ride service Uber and Alaska Airlines for an end-of-the-summer escapade to celebrate National Relaxation Day.
Many hotel brands, including Fairmont, have been encouraging fans to embark on road trips as a way to sample complementary properties. Combining multiple companies like this allows consumers to get a sense of how a brand fits into the larger travel ecosystem.
Sanctioned relaxation
Although National Relaxation Day is not the most well-known commemorative day, layers such as this make a campaign stickier. Plus, many consumers appreciate quirky trivia.
The "Summer of Go" sweepstakes requires little from fans. Those interested just have to fill out a brief form that calls for the person's name, email address and zip code. Consumers can also send "relax" to 30364 to be entered into the weekly and grandprize drawings.
Each week through Aug. 18 a winner will be awarded "two tickets to anywhere Alaska Airlines flies, three nights at select Fairmont Hotels & Resorts, a $500 Tommy Bahama Gift Card, $50 Uber credit and a 'Summer of Go' Travel Pack."
At the end of the sweepstakes, a grand prize winner will receive air transportation for four, a seven-night stay at The Fairmont Orchid, Hawaii, $200 Uber credit, a $1,000 Tommy Bahama gift card, a travel pack and dinner at the Tommy Bahama restaurant in Mauna Lani.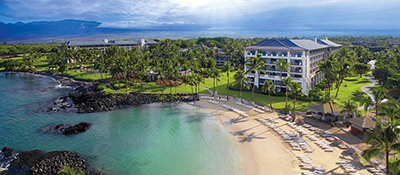 The Fairmont Orchid, Hawaii
Fairmont is promoting the contest on its social media pages.
Hotel brands are enlisting social influencers for road trips to build communities and showcase possible itineraries.
For travelers contemplating summer plans, an unfolding road trip on social media can inspire excursions. Also, the captive audience of many social influencers can drive new guests to brand properties (see story).