Four Seasons Hotel Bangkok is teaming up with Travel + Leisure Southeast Asia for an Instagram contest surrounding the World Gourmet Festival Sept. 1-7.
The annual festival draws food enthusiasts from all over the world and celebrates daring and artistic chefs from equally diverse areas. Since the hotel is the host of the festival, the photos culled from Instagram contests will prove valuable for future marketing purposes.
"Instagram is one of the most popular social media platforms here in Thailand, and it's constantly growing," said Nicola Chilton, senior director of public relations at Four Seasons Hotel Bangkok.
"According to Instagram, in 2013 Bangkok's Siam Paragon shopping mall was the most Instagrammed location on the planet, taking over from another Thailand location, Bangkok's Suvarnabhumi International Airport, that took the top spot the previous year," Ms. Chilton said.
"Bangkok was also 2013's most Instagrammed city after New York. It's figures like these that show us that our local community in Bangkok, as well as visitors to the city, love this social media channel, so that's the space in which we want to create something fun for our followers and future followers."
What's at steak
There are certain subjects that reliably generate mounds of social media photography: skylines, bodies of water, animals, etc., and food is somewhere near the top of that list.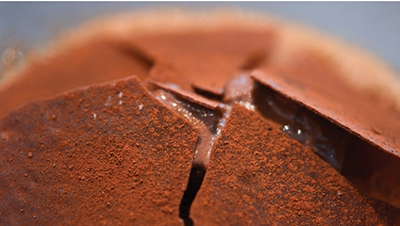 Promotional image for World Gourmet Festival
The World Gourmet Festival, in particular, is a paradise for foodie photographers. Chefs from around the world display their food in supremely skillful arrangements.
Seven master chefs from France, Spain, Portugal, Hong Kong, the United States and Australia will participate.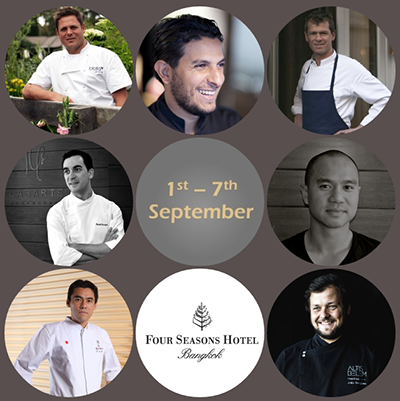 Chefs participating at the World Gourmet Festival
Since it is certain that Instagram will be one of the most popular platforms for hosting the ensuing photos, Four Seasons sensibly intervened to divert images to its contest.
The #MYWGF contest calls for attendees to follow @FSBangkok on Instagram, post images with the hashtag #MYWGF and geotag the location at Four Seasons Hotel Bangkok.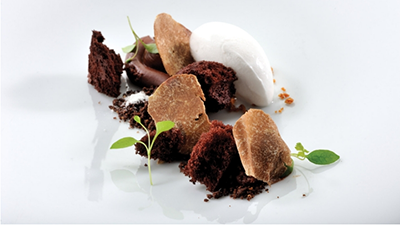 The World Gourmet Festival
The property will then re-post eligible images on its Facebook page, where fans will vote on their favorite from Sept. 1-10. From the top 10 most popular images, the editor-in-chief of Travel + Leisure Southeast Asia, Chris Kucway, will select a final winner.
The winning entrant will receive a two-night stay at Four Seasons Resort Koh Samui, Thailand.
"In this part of the world we also love to post images of food, and the World Gourmet Festival creates some fantastic opportunities for people to do just that," Ms. Chilton said.
Time to feast
Instagram contests have become a regularly leveraged tactic. Some brands, including Four Seasons, have found ways to invigorate the form and keep consumers engaged for longer.
For instance, Four Seasons Hotel New York is advocating for high spirits this summer with an Instagram contest asking fans to show their love for the city.
The hotel is teaming with a global vacation photography company, Flytographer, to launch the #FSNYSummerLove photo contest. Hotel guests and New York locals are encouraged to return to Four Seasons Hotel New York's social media pages to discover the weekly contest theme all summer long (see story).
Many brands find that Instagram campaigns create rolling benefits by increasing community size and overall interaction.
"Our contest last year helped to increase awareness of our @FSBangkok Instagram account, and we were able to welcome many new followers," Ms. Chilton said. "The contest is linked to our Facebook page where we already have more than 25,000 followers, so all of the great images that were submitted to the contest were viewable by everyone visiting us there.
"The images that were submitted to the contest were a great showcase for the World Gourmet Festival, for the visiting chefs, and for all participants, and helped to create even more buzz about the weeklong event," she said.
"We hope to make the contest even bigger this year, and look forward to seeing what inspires our guests."
Final Take
Joe McCarthy, staff writer on Luxury Daily, New York