British jeweler Graff Diamonds is looking to the 27th Biennale des Antiquaires Paris Sept. 11-21 to launch its latest high-jewelry collection.
Held in Paris every two years, La Biennale de Paris, is considered to be among the jewelry industry's most coveted events. Art dealers, collectors and consumers alike will gather at the Grand Palais to view the fine jewelry, art and antiques on display, opening an opportunity for Graff to stand out among the competition.
"We will mark our return to La Biennale after a 12 year absence with an extraordinary selection of the very finest jewels and extremely rare diamonds and gemstones that reflect our global reputation for the most fabulous jewels in the world," said Francois Graff, chief executive officer at Graff, London.
"La Biennale des Antiquaires is a highly prestigious event which brings together the finest luxury brands – and we are delighted to be involved in 2014 as we continue the expansion of the Graff Diamonds brand globally," he said.
"Celebrating our renowned diamond expertise and outstanding stone-led jewelry design, we will showcase exquisite unique pieces featuring exceptionally rare jewels of significant importance."
How to stand out
Graff will be joined by the world's leading jewelers who also plan to display their finest collections and latest high-jewelry pieces. Participants in the 2014 Biennale de Paris include Boodles, Boucheron, Bulgari, Chopard, De Beers, Fabergé, Tiffany & Co. and Van Cleef & Arpels, among others.
Cartier shared news of its participation with the reader's of its Rouge Cartier digital magazine. On the event entry within the magazine, Cartier kept the details brief, only noting that the high-jewelry collection unveiled will feature "roughly a hundred dazzling creations" (see story).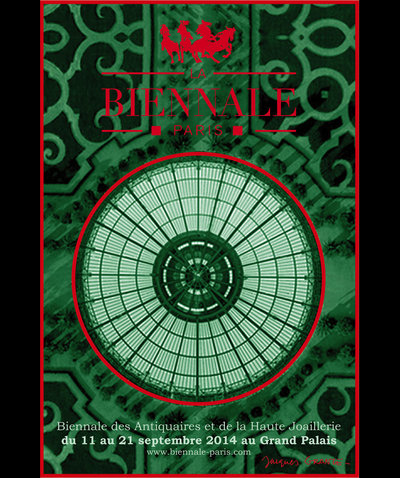 Biennale des Antiquaires Paris 2014 poster
With such steep competition among brands, those that have created standout pieces are more likely to leave an impression. Graff, for instance, has created three pieces that are likely to stay top of mind among La Biennale attendees, as well as reflect its global reputation of fine jewelry design.
Graff's Royal Star of Paris, named in honor of La Biennale, is one such standout piece featuring the Graff Sunflower, a 107.46-carat yellow cushion cut diamond as well as the Graff Perfection, a 100-carat D-grade flawless pear-shaped diamond drop.
The Royal Star of Paris, which can be worn as either a brooch or a pendant, is unqiue because very few diamonds exceed 100-carats. With 271.33-carats, between the two main diamonds and the smaller stones, the Royal Star of Paris shows Graff's quality of design in one piece of jewelry.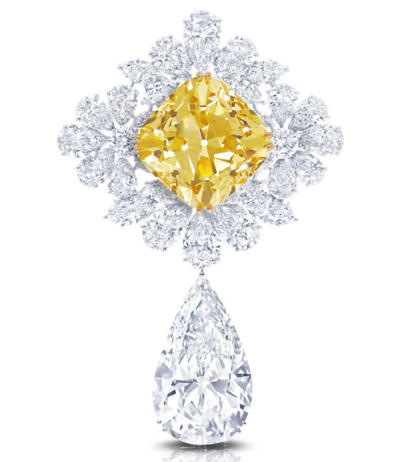 Graff's Royal Star of Paris named in honor of the host city of La Biennale
A second notable piece to be unveiled during La Biennale is the 201.15-carat Le Collier Bleu de Reve necklace. The centerpiece of the necklace is the 10.47-carat blue internally flawless briolette diamond.
The blue diamond's coloring is so rare that only one in 10,000 are of the same shade and presented Graff with a great opportunity to create this piece. Like the Star of Paris, the beaded diamond necklace pendant can be removed to be worn as a brooch.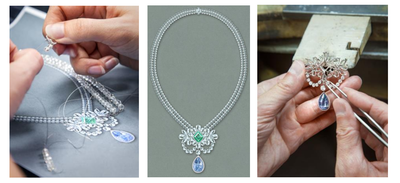 Jewelers working on Graff's Le Collier Bleu de Reve necklace
Also set to debut at La Biennale is the Diamond Flower brooch with an 8.97-carat pink orange pear-shaped diamond and a 38.13-carat pear-shaped drop diamond. This piece, like the Le Collier Bleu de Reve, is of note due to the rarity of its pink diamond.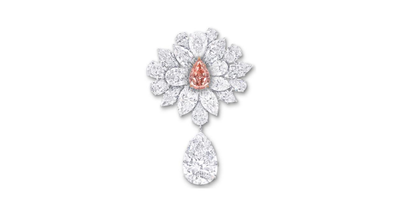 Graff's Diamond Flower brooch
In addition to these three pieces, Graff will have pieces on display with a central theme of stone-led design. Pieces will include necklaces, some with beaded tassels, bracelets and earrings all echoing the central motif, according to the brand.
Graff's booths at La Biennale will be designed by the jeweler's Monaco-based interior design team and will feature striped marble floors, walnut wall panelling, bronze showcases and a gold engraved glass wall as a centerpiece of the event stand. The design of the stand is meant to mimic the features seen in Graff's 46 global boutiques.
High-jewelry highs
Jewelers have spent a significant amount of time promoting fine jeweler in recent months to show off their expertise beyond ready-to-wear collections.
For example, French jewelry house Van Cleef & Arpels engaged with its social media audience by unveiling a new collection solely on Instagram.
On June 27, Van Cleef & Arpels shared its new fairytale-themed high jewelry collection on Instagram through a series of posts. This likely helped the jeweler raise engagement and following of its Instagram account, while making those consumers who participate feel part of its inner circle (see story).
Although sharing launches through digital channels is useful for marketers, experiential events, such as La Biennale, are a better outlet to target affluent consumers. Events give brands an outlet to display its craftsmanship, of the Royal Star of Paris, for example, in person.
"The Graff Perfection is a beautiful example of the legendary stones that we source, cut and polish, each with remarkable stories to tell," Mr. Graff said. "After many hours of tireless work, we unleashed the potential of an incredible 225-carat rough diamond.
"Testament to our diamond cutter's skill, determination, and acute attention to detail this rarefied gift from Mother Nature was transformed from perfection to ultra-perfection," he said. "It takes Graff's master craftsmen many years at the bench perfecting their workmanship to earn this title; the result is a technique of exceptional quality.
"Each individual jewelry piece requires a steady hand and exacting precision, so much so that our master craftsmen often spend many months working on just one piece," he said.
"The Royal Star of Paris perfectly showcases the culmination of an elite team of Craftsmen's diligence. From each jewel's inception at the hands of Graff's in-house design team, to the realization of the piece in the workshop, our London atelier have expertly infused years of experience within this piece."
Final Take
Jen King, lead reporter on Luxury Daily, New York