The Fairmont Beijing is partnering with automaker BMW to offer guests emission-free transportation through the new electric i series.
The alliance will bring both brands together to present guests with the opportunity to ride in the i series and experience Beijing. An eco-friendly package will likely interest environmentally conscious guests as well as BMW enthusiasts.
"Expanding our programming with a respected partner like BMW was an easy decision," said Mike Taylor, director of public relations at Fairmont Hotels and Resorts, Toronto.
"We work with them on a number of levels globally, from chauffeured car service at our hotels in Canada to providing guests with complimentary access to BMW bicycles at Fairmont properties around the world," he said.
Environmentally conscious
Fairmont Bejing is offering a Passion Package that will highlight the i series to guests. The guests will first experience the eco-friendly car at their airport transfer.
The package lets guests experience the vehicle while touring the city. A private guide and transportation brings guests to the 798 Arts District where a guided tour to meet artists is provided.
Also, guests receive a behind-the-scenes tour of the Peking Opera where they will see a rehearsal of the National Peking Opera Company and attend a performance.
Another option for guests is to explore ancient hutongs in Beijing on BMW bikes.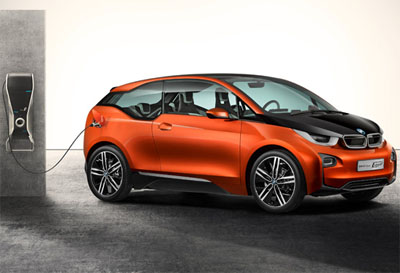 BMW i3
BMW and Fairmont have partnered to be part of the "Wise City Action" initiative, which encourages Beijing and Shanghai property companies to install re-charging facilities for electric vehicles. The Fairmont Beijing hotel is among the first real-estate locations with charging facilities.
Without sacrificing speed and appearance, the BMW i3 is made out of carbon and is locally emission-free for city driving. The BMW i8 is a hybrid that can plug-in. It has very low consumption and CO2 emissions.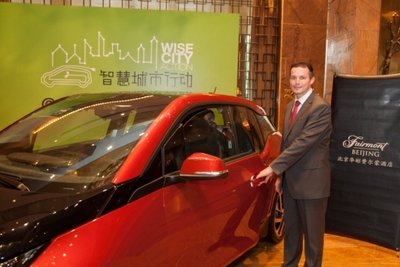 Fairmont Beijing General Manager
Fairmont and BMW have partnered before.
For instance, Fairmont Hotels & Resorts boosted service by partnering with BMW of North America to offer complimentary local shuttle service in the automaker's vehicles for Fairmont President's Club members.
The BMW 750i sedan is used for the hotel's chauffeur service at all Fairmont properties in the United States. The chauffeur service is exclusively available for Fairmont President's Club members (see story).
Partnering off
Hotel companies and automakers often partner with one another to attract like-mined consumers.
For instance, Dorchester Collection's 45 Park Lane in London enlisted Rolls-Royce Motor Cars to provide penthouse suite guests a chance to test out the new Wraith model.
The hotel encouraged guests to take the Wraith on a half-day excursion and greeted their return with a Wraith-inspired cocktail. Joining forces with another British-based luxury brand generated national interest and demonstrates the brand's commitment to the national economy (see story).
Also, Japanese automaker Lexus promoted its new vehicles throughout the streets of Chicago by providing a fleet of vehicles exclusively for guests at the Elysian Hotel.
The luxury automaker partnered with the Chicago-based Elysian to offer guests short complimentary jaunts around the city. Lexus was considered to be the official vehicle of the Elysian (see story).
Partnerships between automakers and hotel brands can bring an alliance between the brands and certain expectations from their consumers.
"We've received tremendous feedback on our marketing programs with BMW, and these are special benefits our guests have told us they truly value," Mr. Taylor said.
Final Take
Nancy Buckley, editorial assistant on Luxury Daily, New York