Employees of Berkshire Hathaway's NetJets are currently picketing at private terminals in California, New Jersey and at the brand's corporate headquarters in Columbus, OH.
According to the NetJets Union Coalition, its unionized pilots, flight attendants, mechanics, maintenance controllers, store clerks and flight dispatchers are negotiating for new labor contracts. The NetJets Association of Shared Aircraft Pilots, a conglomeration of the NUC, the pilots' union and the Teamsters, are working to secure a contract that would cover approximately 4,000 unionized employees.
Turbulence
Picketing and the need of a new labor contract is a result of "corporate greed, pure and simple," according to a statement made by NJASAP president Pedro Leroux.
In Berkshire Hathaway's annual letter to shareholders the brand noted that NetJets revenue grew 7.5 percent in 2013 to approximately $4.1 billion. Also, the United States has seen significant increases in private jet travel and NetJets has announced plans to expand into Europe, mainland China and Brazil.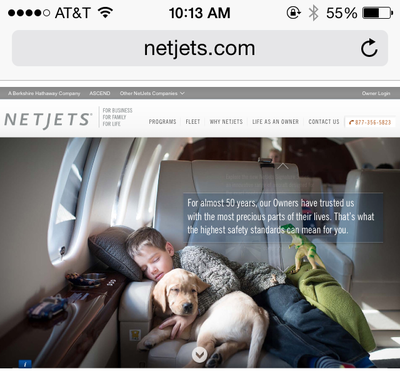 NetJets' Web site
Although the brand, owned by business mogul Warren Buffett, and its clients are ultra-high-net-worth individuals, NetJets' employees are "hard-working middle class Americans" according to Teamster Local 284 president Paul Suffoletto. Thus NetJets "demand for compensation and benefit concessions" may not be feasible for many employees.
Negotiations for flight attendant contracts have been in discussion for more than four years and pilots' union talks for more than a year. Little progress has been made to remedy the labor dispute.
In addition to corporate headquarters, NetJet employees are currently picketing at Teterboro Airport in New Jersey and John Wayne Airport in Orange County, CA. These two locations were likely selected as both airports are frequented by NetJet flyers and will raise awareness of the employees' unrest.