Swiss watchmaker Breitling is helping the Aircraft Owners and Pilots Association celebrate its 75th anniversary, highlighting its aviation heritage.
For the milestone, Breitling will support the organization with a special edition timepiece, scholarship program and events. Breitling and the AOPA have had a relationship for 60 years, when the association chose the brand's Navitimer as its official watch in 1954.
Flying together
Breitling's limited-edition Navitimer for AOPA members features the association's logo on the dial, reminiscent of the version picked in 1954.
Members can get the caseback of the watch engraved with their name and number, celebrating their own history with the organization.
Part of the proceeds from the sale of these timepieces will benefit the Breitling Aviation Scholarship Fund, which is open to aspiring pilots of all ages.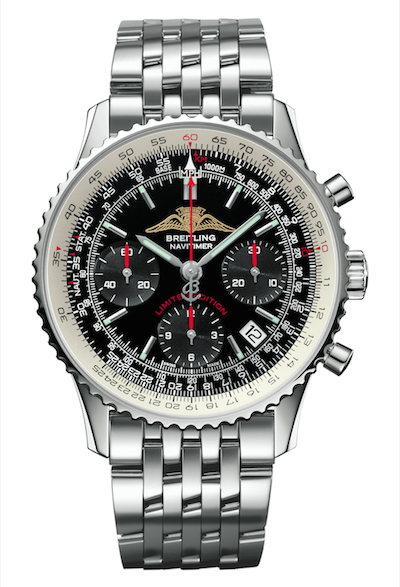 Breitling Navitimer for AOPA
AOPA's goal is to protect the right to fly, while making air traffic safe.
In a brand statement, Breitling USA president Thierry Prissert said, "The support from AOPA over the years represents a key part of Breitling's aviation heritage."
Breitling keeps its heritage of flying front and center.
The watchmaker used its history of aviation as a way to interact with enthusiasts on social media.
Breitling's latest social endeavour invited followers on its Facebook to book a flight with the Breitling Jet Team, made up of professional civilian aviators. Due to Breitling's association with pilots and aviation, offering enthusiasts an experiential opportunity aligned with the watchmaker's codes (see story).