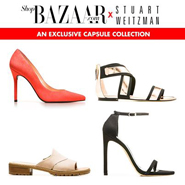 U.S. footwear label Stuart Weitzman and Harper's Bazaar magazine are collaborating to create an exclusive boot capsule collection for ShopBazaar.com.
Editors from the magazine teamed with Stuart Weitzman to create a boot to reflect their own personal style and then each editor pulled together a look to best showcase their boot. The collaboration allows readers of the magazine to interact with the editors and Stuart Weitzman on a more personal level while also driving attention to the shopping section of Harper's Bazzar's Web site.
Editorial models
Previously, the two brands have partnered to create a capsule collection with other editors available exclusively on ShopBazaar (see story).
This time around, editors Joyann King, Kerry Pieri, Mallory Schlau and Christine Whitney collaborated with Stuart Weitzman to create their own personal fall boot.
Ms. King created a pointy-toe stiletto boot, Ms. Pieri chose a over-the-knee boot, Ms. Schlau went with the 1960's theme of a buckled ankle boot and Ms. Whitney went for a rugged lace-up boot.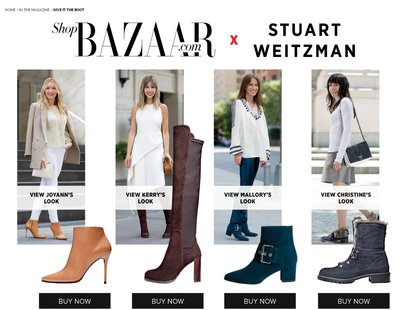 Stuart Weitzman on Harper's Bazaar
The four women's boots and clothing choices are available on ShopBazaar. Also on the site, each woman offered a brief description of the boot and the look and consumers are able to gain some ideas for what to pair each style boot with.
Magazines and fashion brands often collaborate.
For instance, U.S. label Marc Jacobs helped Playboy celebrate its 60th anniversary by creating an exclusive t-shirt with an image of supermodel Kate Moss in a bunny suit.
The t-shirt was based on Ms. Moss's limited-edition cover for the magazine, and was be sold on the Marc Jacobs ecommerce Web site, as well as in its Bookmarc bookstores. With this risqué partnership, Marc Jacobs was able to position itself as a brand that pushes the envelope, and pique interest in the brand and its Bookmarc stores (see story).