Real estate brokerage firm Douglas Elliman is entering a multi-year partnership with the New York Knicks to brand the courtside section that routinely draws celebrities.
Going forward, the courtside seating area will be known as "Douglas Elliman Celebrity Row." The company will have branding around the seats and will get recognition through various marketing efforts.
Front and center
During games, Douglas Elliman will be visible to fans during halftime through courtside signage and placement on the arena's central multi-media display, GardenVision.
Madison Square Garden will now refer to the popular section as "Douglas Elliman Celebrity Row" on social media and likely during broadcasts, in an attempt to get the name to stick. Since the section did not have a distinct name beforehand, the new name will not have to struggle to dethrone a name that has been cemented in consumers' minds, something that would be a much harder feat.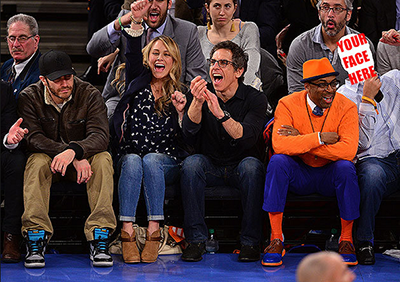 Celebrities sitting courtside at a Knicks game
The real estate brokerage will also be featured in the "Celebrity Row Lookbook" on NYKnicks.com.
Ultimately, the partnership allows Douglas Elliman to boast its New York heritage, spread brand awareness and gain the attention of elite consumers.