British fashion label Burberry partnered with the British Academy of Film and Television Arts (BAFTA) for its 2014 Breakthrough Brits initiative, which selected 18 up-and-coming stars in film, television and gaming.
Breakthrough Brits was founded last year in partnership with Burberry to support new and emerging talent through a one-year non-voting BAFTA membership and individualized mentorship and career development. Through its support of BAFTA's program, Burberry is able to show its interest in developing new local talent.
Budding stars
This year's class of Breakthrough Brits was revealed at an event at Burberry's global flagship on Regent Street in London Oct. 27, hosted by BBC Radio 1 presenter Greg James.
The full list includes writers Jonathan Asser and Chris Lunt, producer/directors Mike Brett, Steve Jamison and Marc Williamson, games producers Charu Desodt and Daniel Gray, directors Destiny Ekaragha and Sarah Walker, composer Tandis Jenhudson, presenter Ashley Kendall, actors Katie Leung, Stacy Martin and Callum Turner, game developer Reece Millidge, actor/producer Ray Panthaki, game designer William Pugh and producer AJ Riach.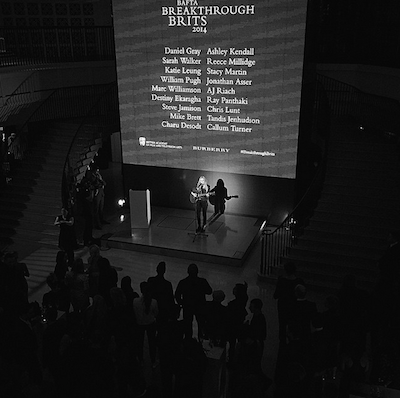 Event photo from Burberry's Instagram
Honorees were chosen from a U.K.-wide call for nominations and submissions, selected by a panel of experts from the represented industries.
During the reception, Burberry Acoustic artist Billie Marten performed live.
"Ribbon" by Billie Marten - Burberry Acoustic
In a statement, Christopher Bailey, Burberry CEO and chief creative, said, "At Burberry we believe passionately in discovering and championing the next generation of British creative talent so it really is a great honor to be supporting the BAFTA Breakthrough Brits for a second year."
Also showing its interest in emerging talent, Burberry cast a crop of young British stars in its spring 2014 print advertising campaign to bring its classic style to a younger generation.
The brand premiered its ad, which features both model newcomers, such as Jean Campbell, and celebrities, including actor Jamie Campbell Bower, across its social media accounts. By tapping into a younger talent pool, Burberry is able to appeal to fans of the stars, and show that its iconic aesthetic is for all ages (see story).