Switzerland's Vacheron Constantin is celebrating the Year of the Goat with a limited-edition Metiers d'Art Legend of the Chinese Zodiac timepiece.
For the Chinese New Year Feb. 19, Vacheron has created a watch each year to celebrate with horology enthusiasts in China. Tapping into local sentiment and culture will likely help Vacheron leave an impression on Chinese consumers and gives a reason for yearly interaction with the watchmaker.
New year, new watch
Vacheron's Metiers d'Art Legend of the Chinese Zodiac -- Year of the Goat watch is limited to 24 pieces and will only be available in the watchmaker's boutiques in China. The watchmaker has made only 12 in platinum and 12 in pink gold, both of which feature a hand-engraved goat motif on a background of enamel.
A depth effect was created on the watch's dial by etching a leaf motif directly in the metal. The semi-embedded pattern stands out from the gold base subtly to create the effect while raised honeysuckle flowers appear to float over the dial.
Both the leaf and honeysuckle motif are aspects of classic Chinese iconography. As for the goat motif, Vacheron's artisans engraved its fleece to measure a fraction of a millimeter.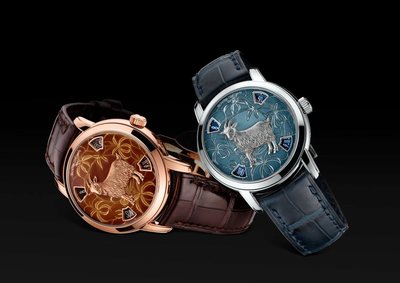 Vacheron's Metiers d'Art Legend of the Chinese Zodiac watches for Year of the Goat
In addition to the high-quality engraving used on the Year of the Goat wristwatch, Vacheron also incorporated a Grand Feu enameling technique. Invented in Geneva, the technique is preserved by a small number of skilled artisans.
To achieve this type of enameling, layer upon layer is applied to enhance the intensity of the dials color, in this case blue or bronze. The piece is then fired at 1,472°F to 1,652°F before a final layer of enamel is applied and the watch is refired to create the shiny glaze that adds definition to the floral motif.
For the prior year, Vacheron created a Metiers d'Art Legend of the Chinese Zodiac watch to fete the start of the Year of the Horse. Also limited to 24 pieces, the watchmakers sought to capture the "lively and independent spirit" of the horse by incorporating elements of Chinese culture such as bamboo and leaves (see story).