German automaker BMW is supplementing its official partnership of Art Basel Miami Dec. 4-7 with a number of initiatives that elevate the brand's visibility among the ultra-affluent consumers roaming about.
The brand's Art Car series has commanded the respect of both auto and art enthusiasts around the world as top artists including Frank Stella, Robert Rauschenberg, Jenny Holzer, Olafur Eliasson and Jeff Koons have designed a vehicle. The Lichtenstein BMW 320 Group 5 will help BMW gain credibility among the many guests who will be taking advantage of the brand's other offers.
"Art Basel attracts a very affluent audience with visitors from all over the world," said Ron Kurtz, president of the American Affluence Research Center, Atlanta.
"This program will give BMW good exposure to potential buyers and perhaps result in some first hand exposure among people who would not go to a dealership and take a test drive," he said.
Mr. Kurtz is not affiliated with BMW, but agreed to comment as an industry expert.
BMW was unable to comment by press deadline.
Driving around
The foundation of BMW's official partnership with Art Basel Miami is a bread and butter tactic. The brand will be providing official VIP shuttle service with 7 series vehicles for visitors.
In doing so, the brand has sustained and impactful contact with high-tier consumers, many of whom will be prospective clients.
Also, since many guests that attend Art Basel intend to spend huge sums of money on artwork, BMW may be able to ply them into purchasing a car.
Beyond this basic interaction, the brand will have its own show for guests to linger around. The brand is encouraging attendees to view the BMW Art Car by pop artist Roy Lichtenstein and another by painter Michael Jagamara at the Botanical Garden next to the fair.
The car will be recognizable to anyone familiar with Lichtenstein's loud, vibrant and Ben-Day dot suffused paintings.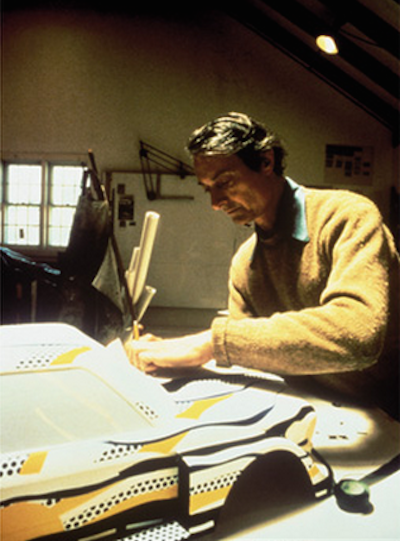 Lichtenstein working on BMW Art Car
Mr. Lichtenstien was tapped to design the BMW 320 Group 5 in 1977, the third artist to get involved in the project.
The BMW Art Car by Michael Jagamara is also emblematic of the artist's style.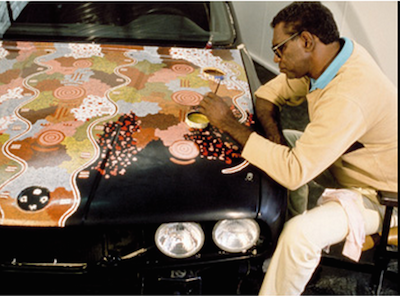 BMW Art Car by Michael Jagamara
The Australian artist painted the vehicle in 1989 and wanted to capture depiction of nature from aerial view, while including mythological Aborigine shapes and patterns.
On Dec. 3, BMW will announce another component of its Art Basel partnership, an agreement to support emerging artists.
This year's Art Basel will feature more than 250 galleries from North and South America, Europe, Asia and Africa.
BMW has staked out a presence at other major art shows including the Gallery Weekend Berlin and the Kochi-Muziris Biennial in India.
Crowding around
Other brands are looking to align themselves with the prestigious event.
For instance, Mandarin Oriental, Miami is highlighting its affiliation to Art Basel as the fair arrives.
Guests of the property's MO Lounge + Bar will get the chance to view an exclusive art exhibit. Since art enthusiasts from all over the world will be traveling to Miami for Art Basel, the property is aiming to encourage some of that traffic to book rooms or just dine for an evening (see story).
Leading up to the art fair, the world of luxury will be dissected close by.
Reflecting the growing convergence of fashion, art and technology, the upcoming New York Times International Luxury Conference will explore how those in the industry can benefit from these relationships.
For the first time, the conference will be held in the United States, at the Mandarin Oriental in Miami, ending a day before Art Basel Miami Beach opens. With keynotes and panels featuring an eclectic group of speakers across different disciplines, the conference is arranged to help attendees get inspired for their own work by listening to people inside and outside their fields (see story).
BMW's highly visible role at Art Basel Miami will likely have an enduring impact.
"On the other hand, this program is not likely to produce many, if any, incremental sales as the audience should all be familiar with the BMW brand," Mr. Kurtz said.
Final Take
Joe McCarthy, staff writer on Luxury Daily, New York