Rolls-Royce Motor Cars is opening up its apprentice program to a record number of young individuals for 2015.
Sixteen candidates between the ages of 16 and 24 will train at with the brand for up to four years, both at its facilities and in a classroom setting. Expanding this program both provides educational outreach and helps to train future potential employees.
Training program
The Rolls-Royce Apprenticeship Program, which started in 2006, was developed in conjunction with a number of local colleges, and affords the participants the opportunity to gain nationally recognized accreditation.
Candidates chosen will begin in September 2015, working with the brand's skilled workers in leather, wood, engineering, paint and assembly.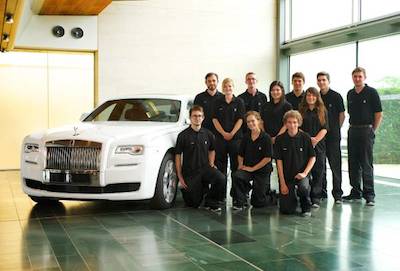 Rolls-Royce apprentices
"We seek the very best candidates," said Andrew Ball, corporate communications manager of Rolls-Royce Motor Cars, Goodwood, Britain, in a previous interview with Luxury Daily. "Since the launch of the program in 2006, our selection process has been successful in delivering exceptional apprentices, the vast majority of whom have subsequently been employed by the company."
Other automakers have looked to ensure a talented employee pool for the future.
British automaker Jaguar Land Rover is underscoring its commitment to Britain's economic welfare with the opening of its 2015 recruitment program.
The program aims to recruit up to 200 candidates for the fully-funded apprenticeship program, to add to the already 620 candidate-strong program. For a brand that touts its British heritage, such endeavors provide authenticity (see story).