Neiman Marcus' is offering an exclusive collection of Hermès handbags available through Hermitage Auctions.
The exclusive auction is on Neiman Marcus' Web site and offers limited time purchases and double Neiman Marcus Incircle points. By hosting this exclusive event, Neiman Marcus will likely drive traffic to its Web site.
Exclusive events
The ecommerce event is led by Hermitage Auctions and only offers Hermès products on Neiman Marcus' Web site.
All sales are final, and the items available include vintage Birkins and Kellys as well as a few Constance bags and clutches.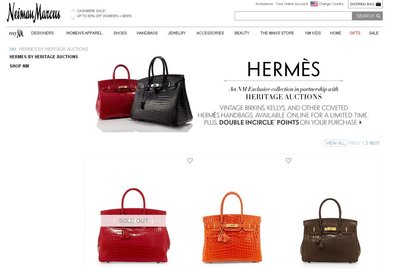 Every purchase earns the consumer double Neiman Marcus Incircle points.
Other auction house have gained attention for the luxury products offered.
For instance, online auction house Auctionata is aiming to elevate the standard of digital auctions by rigorously assessing all lots.
Internal experts work with sellers to evaluate item authenticity and worth prior to contracts being signed and items relocating to the auction location. Ultimately, Auctionata strives to meet the demand for a trusted online auction space that protects both the seller and the buyer from fraud (see story).