Luxury conglomerate Moët Hennessy Louis Vuitton is launching the 2015 edition of its LVMH Prize to help nurture young fashion talent.
The LVMH Prize for Young Fashion Designers grants about $356,000 to a designer who shows significant talent, and also provides them with mentorship for a year. Making this prize an annual occurrence will help LVMH showcase its dedication to supporting young creatives at the start of their careers.
"[The Prize] creates an event to aspire to among young designers, while coalescing energy and talent in academia," said Marie Driscoll, CEO and chief consultant of Driscoll Advisors, New York.
"Everyone wants to win a prize and one from the world's leading luxury houses is incredibly noteworthy and will likely bring acclaim and recognition as well as the financial prize to the winner," she said.
Ms. Driscoll is not affiliated with LVMH, but agreed to comment as an industry expert.
LVMH was unable to comment before press deadline.
Building a tradition
The contest, established last year, is judged by eight creative directors of LVMH brands, including recently appointed Nicolas Ghesquiere of Louis Vuitton, Karl Lagerfeld of Fendi and Raf Simons of Dior, as well as LVMH board member Delphine Arnault and other executives at the conglomerate (see story).
Joining the creative director judges from last year is Jonathan Anderson, who is the creative director of Loewe.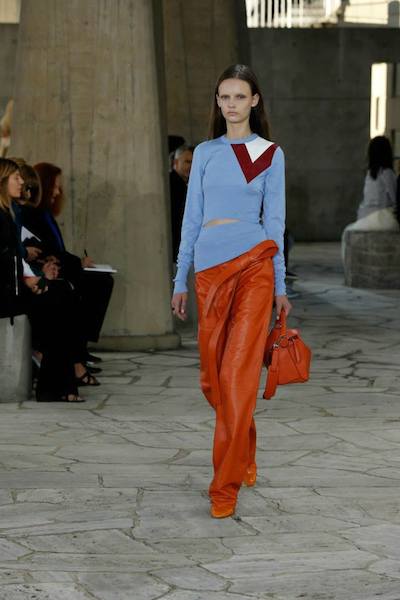 Look from Loewe's spring/summer 2015 collection
Established men's or women's ready-to-wear designers ages 18-40 who have shown and sold at least two collections for their brand can enter to win the grand prize. The submission process includes attaching photos of models wearing pieces from the designer's last two collections, as well as any press.
Those wishing to apply can do so through Feb. 8, and the winner will be selected in June.
In addition to the grand prize, LVMH runs a Graduates prize for fashion students in an undergraduate program who will obtain a degree in 2015. Three winners will receive about $12,000 and will be placed in a one-year design team position at an LVMH house.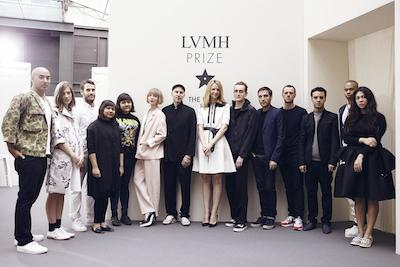 LVMH Prize finalists from 2014
LVMH is letting consumers play a part in the competition through an Instagram contest. To enter, consumers need to enter their contact information, including Instagram handle.
The winning "talent scout" will be able to join the judges in Paris to vote for the top 10 finalists.
Last year, British designer Thomas Tait took home the top prize over the other 1,200 applicants. In an interview, he told Women's Wear Daily that a portion of the money would go toward manufacturing to help prevent him from having to turn away orders from retailers.
In a group statement, LVMH deputy managing director Delphine Arnault said, "With this second edition of the LVMH Prize for Young Designers, the Group confirms its ongoing dedication to young talent. It is our responsibility as leader of our industry to identify tomorrow's talents and help them grow."
LVMH PRIZE - Delphine Arnault presents the missions
Talent pool
According to a report by Boston Consulting Group, luxury brands struggle to find and recruit the top talent for positions across their companies.
Having the right employees can have a measured impact on a brand's profits and economic growth, especially in executive and leading creative roles. Because of this luxury brands may need to rethink their existing recruiting strategy to locate the personnel necessary (see story).
Since brands continue to struggle to recruit adequate creative talent, luxury conglomerate LVMH Moët Hennessy Louis Vuitton has created a new professional training program, L'Institut des Métiers D'Excellence, or IME, to lessen the burden.
LVMH's IME program will allow the company to voice its need for artisans while supporting young talent as they develop their crafts to ensure that the skills of the trade remain strong for future generations. The program will launch in September and will give IME trainees accredited degrees through paired apprenticeships with LVMH houses (see story).
This type of competition helps luxury brands connect with a new generation.
"Luxury houses need to refresh their brands with the insights of youth and the tenor of the times to remain current while maintaining and deepening the heritage aspect of the brand," Ms. Driscoll said.
"Young talent have a better understanding of the next generation of luxury shoppers too," she said. "And as important, without investing and nurturing in young designers and artisans, the skills, techniques and artisan practices could be lost to future generations.
"LVMH is trying to remain relevant with today's and tomorrow's generations while carrying on many of the traditions and best practices of the many century old luxury brands in the LVMH portfolio."
Final Take
Sarah Jones, editorial assistant on Luxury Daily, New York